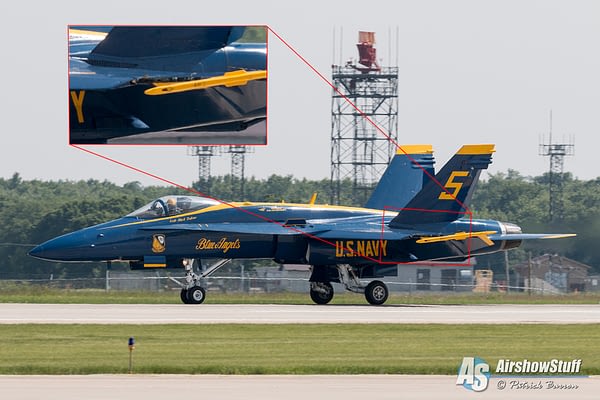 An unusual moment occurred at the Rockford Airfest yesterday when Blue Angel #5 lost a piece of his wing! The outer portion of the leading edge flap on the left wing went missing some time before or during the Line Abreast Loop. The flap is an aircraft control surface that helps the wing maintain lift at high angles of attack. You can see the remaining portion of it angled slightly down in the photo above. The pilot, LCDR Mark Tedrow, completed that maneuver but appeared to give the rest of the formation some extra spacing until it was completed. He then came in to land while the rest of the team continued the performance, jumped into a two-seat backup jet, and amazingly took back off to finish the show. The situation was serious, but proved to be another shining example of the skill and professionalism of the team.
This is the second time a piece of a Blue Angel jet has fallen off in as many weeks. A fisherman found a small piece floating in a wetland area after the team's performance in Rochester New York on May 23rd. He recovered the piece and returned it to the team. No word on whether the missing part from Rockford has been recovered or not, but the team is set to perform again today assuming the weather holds out.
Look for more coverage of Rockford soon, especially on the AirshowStuff Facebook page!