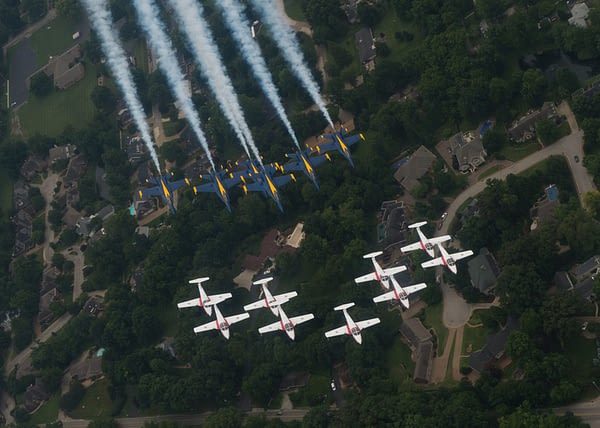 Most airshows compete fiercely just to secure one jet team appearance, and it's a very rare event for one show to land two teams! This weekends airshow in Evansville, IN is one such rare occasion. The teams in attendance, the US Navy Blue Angels and the Canadian Forces Snowbirds, decided to take full advantage of the special opportunity; they jumped into their jets and took to the skies for a majestic 15 plane joint photo shoot.
The Blue Angels, flying six F-18 Hornets, and the Snowbirds, flying nine CT-114 Tutors, flew in a loose formation around the skies of Evansville. The Blue Angels teased the flight yesterday morning on their Facebook page, and we got our first indications of what was happening from some fans on Twitter. Today, the Blues released these official photos from the flight:
Both the Snowbirds and Blue Angels will be flying at this weekends Evansville ShrinersFest & Air Show.
[wonderplugin_slider id="5″]