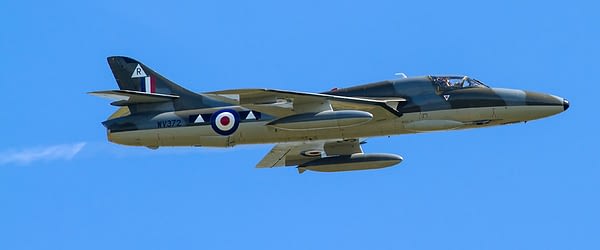 A Hawker Hunter jet has crashed at the Shoreham Airshow in the UK today, and there are likely to be multiple casualties. The jet came down on a crowded highway just outside the airfield around 1:20pm local time. Multiple videos of the crash have been posted online; the aircraft can be seen coming down from a looping maneuver before descending below the tree tops and onto the roadway, then erupting in a large fireball.
Some reports from the scene indicate the pilot ejected before impact, but videos of the incident do not show any ejection. Other reports indicate the pilot may have been pulled from the wreckage alive. Most reports agree that there are at least a pair of bystander fatalities on the ground with the potential for more. The A27 highway has been closed in both directions and emergency services are responding.
The only Hunter listed on the show's website as a performer is Hawker Hunter T.Mk.7 WV372, a privately held example of the type.
We will have more information as it becomes available.