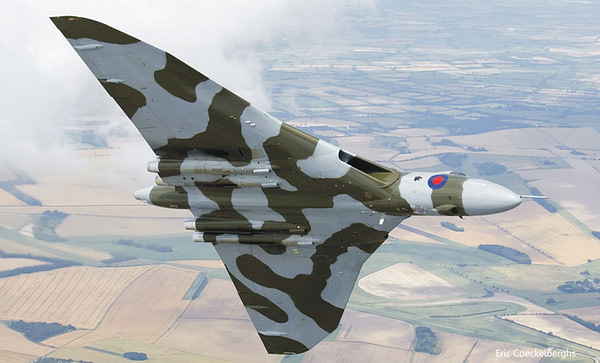 If there's one warbird that has captivated the aviation community over the past few years, it's been XH558: the last flying Avro Vulcan. XH558 has been flying since 2007 after retiring from service with the Royal Air Force (RAF) in 1984. On October 28th of this year, the Vulcan made a farewell to flight at Robin Hood Doncaster Sheffield Airport outside Doncaster, England. With a short flight and a final taxi, XH558 became the last Vulcan to fly and will be put on display and occasionally run up and taxied at the airport.
However, the Vulcan has raised some trouble with England's Civil Aviation Authority (CAA) with what appears to be a pair of barrel rolls during one of it's last flights. The BBC has published footage by BDP Aviation that appears to show XH558 executing two separate barrel rolls while flying over Grantham, Lincolnshire on October 4th. The CAA had tightened restrictions on maneuvers during aerial displays following the August 22nd crash of a Hawker Hunter T7, G-BXFI, in Shoreham that resulted in 11 fatalities.
According to the BBC article, a CAA spokesperson has said the Vulcan "may have performed a roll maneuver". Adding: "This did not occur during an air display. Although not normally allowed under its current permissions to fly, a roll is a benign maneuver and the Vulcan's maintenance support organisation has confirmed that the aircraft is safe to fly."
When done correctly, a barrel roll maneuver is flown at a constant 1G, meaning the aircraft never 'feels' that it is inverted. Famous examples of this include the Boeing 707 airliner that was rolled on a test flight, and Bob Hoover pouring water into a glass while rolling.
The investigation by the CAA is underway, and the Vulcan to the Sky Trust that operates XH558 has yet to comment.