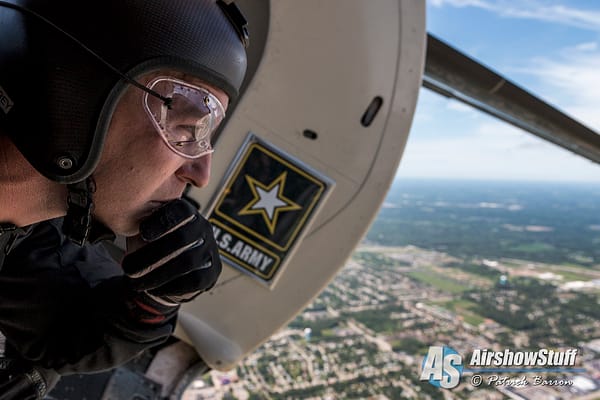 The US Army Golden Knight that was injured in a mid air collision with a US Navy Leap Frog during the Chicago Air and Water Show this weekend has died of his injuries. He has been identified as 32-year-old Sgt. First Class Corey Hood. Originally from Cincinnati, OH, Sgt. Hood had served in the Army for more than 10 years and earned several medals during that time. He was an Airborne Forward Observer and served five tours of duty in Iraq and Afghanistan before becoming a member of the Golden Knights' Black demonstration team. Sgt. Hood was one of the Golden Knights present when AirshowStuff's Patrick Barron rode with the team earlier this year at the Dayton Airshow.
The two parachute teams were performing together at the airshow, and the two jumpers apparently collided while splitting apart in a bomb burst maneuver. The Leap Frog suffered a broken leg and was treated by medics upon landing. Witnesses report that Sgt. Hood appeared to be under canopy but unconscious as he neared the ground. He clipped a building before falling to the sidewalk below. The Golden Knights canceled their remaining performances this weekend and initiated a safety stand down to review the incident.
Our thoughts are with Sgt. Hood's family and friends, especially his team members.