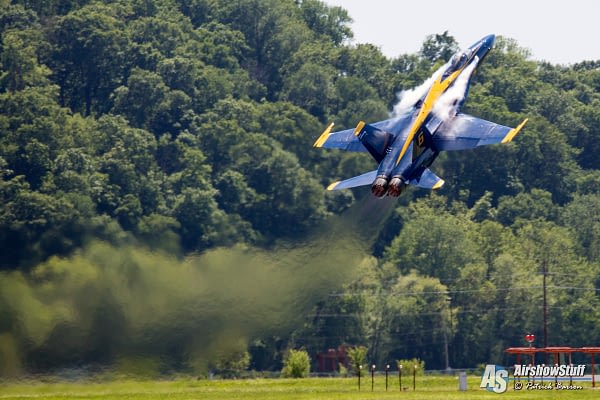 We are sad to report that Captain Jeff Kuss, Blue Angel 6, has been killed in a crash today at the Great Tennessee Airshow in Smyrna, TN. He was performing as part of a practice routine for this weekend's airshow. Eyewitness accounts say the aircraft impacted the ground at a nearby golf course while attempting a Split-S maneuver after takeoff, as is normal for #6. A large fireball and smoke cloud were seen, and rescue personnel responded. The other Blue Angels landed safely.
According to his bio on the Blue Angels website, Kuss was a native of Durango, CO and was commissioned as an officer in the Marine Corps in 2006. He joined the Blue Angels in 2014 and served as the team's narrator during the 2015 season before transitioning to Opposing Solo for the 2016 season.
Please note that this incident is unrelated to the USAF Thunderbirds incident in Colorado today.
Our thoughts are with Capt. Kuss' family, friends, and shipmates during this horrible time.
UPDATE: One of our photographers gathered this footage of various tributes to Captain Kuss in the days following the crash.