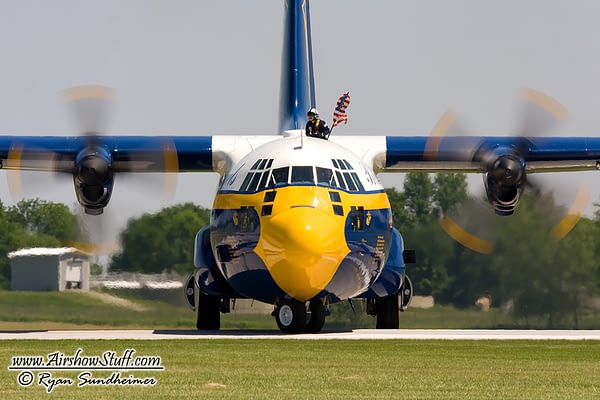 Fat Albert, the famous C-130 Hercules that serves as the transport for the US Navy Blue Angels, appears to be done flying for the season. As we reported last week, Bert was forced to miss the Seattle Seafair airshow this past weekend due to unspecified maintenance issues, and unconfirmed reports began circulating that it would not be back to flying status any time soon. A tweet by one of the three Fat Albert pilots, USMC Captain Katie Higgins, seems to confirm the news. She mentions that Bert is in depot-level maintenance, and that she will not fly that airframe (164763) again during her time with the team.
@fatalbertusmc is going into depot. Since it is my last year on the team, today was the last time I will fly 164763. pic.twitter.com/x5P8scabiL

— Katie Higgins (@gearupflapsup) August 9, 2016
The team will likely utilize a normal Marine Corps KC-130 for its transportation needs for the remainder of the season, but it remains to be seen whether that aircraft will perform in shows or not. From what we have heard, it seems doubtful. This puts a further damper on the current Blue Angels performance that remains a five-jet routine following the crash of Blue Angel #6, Captain Jeff Kuss, earlier this year. The sixth jet will rejoin the performances once Commander Frank Weisser is fully proficient in the routine.
We have reached out to the Blue Angels for comments and official confirmation. In the mean time, those needing their Fat Albert fix can take a ride in the cockpit during an airshow flight earlier this year: