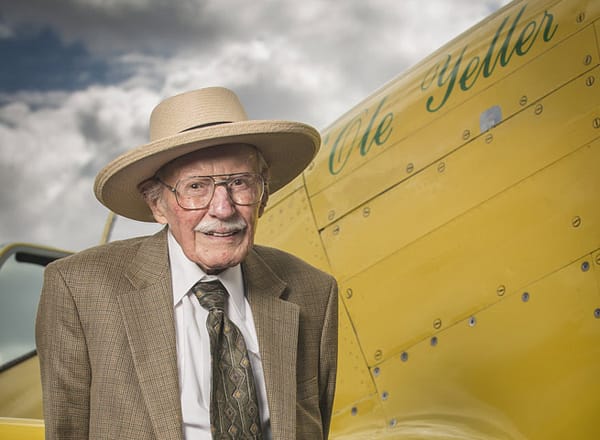 Aviation lost one of its greats one month ago, when R.A. "Bob" Hoover passed away at the age of 94. Bob was without a doubt one of the most legendary pilots to have graced the skies. His exploits in World War II would have been enough for most pilots, but his real fame was gained following the war when he flew as a test pilot and airshow demonstration pilot. He was also an incredible human being who was renowned for his story-telling, energy, and kindness.
True to his form, the aviation community came together a few weeks after his death to celebrate his life, which a star-studded event at Van Nuys airport. Numerous speakers, many aviation legends themselves, took to the stage to share their stories of Bob and his accomplishments. The event eventually moved outside, where a military honor guard fired a gun salute and played taps as three formation of aircraft roared overhead. The first formation was led by a T-39 Sabreliner, one of the many aircraft types that will forever be linked to Hoover. It was joined by two F-16s from the US Air Force Thunderbirds and a CT-114 Tutor from the Canadian Forces Snowbirds. The second formation saw an F-22 Raptor lead a pair of F-86 Sabres, a type that Bob test flew during his career. The final formation had four warbirds; a P-40 Warhawk, an F6F Hellcat, a Spitfire, and perhaps Bob's most famous airplane, his P-51 Mustang "Ole Yeller". In a fitting tribute, "Ole Yeller" performed the missing man pull out of the formation as the last notes of taps faded away.
Fortunately, Bob was the subject of many documentaries and interviews during his time with us, and generations to come will have many recordings to hear his wisdom through. Although Bob is gone, he will continue to touch the lives of aviators for a long, long time.