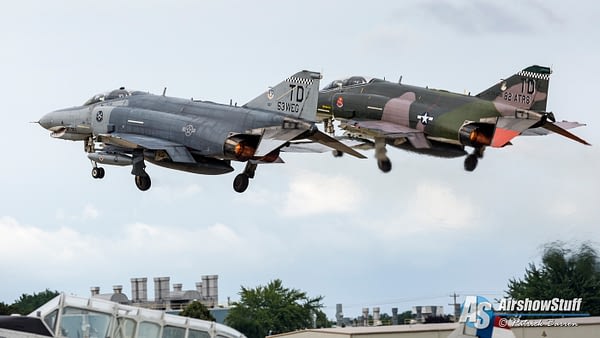 Update: 9/20/16 – Although the Fort Worth Alliance Airshow asked to be removed from this post last week, we have reconfirmed that two Phantoms plan to attend the show and have re-added it to the schedule.
We have already reported that 2016 is the final year for USAF-operated F-4 Phantoms, but we are happy to report that they will go out with a public celebration of their service. As announced by F-4 pilot Ron 'Elvis' King at EAA AirVenture, there are plans to fly the last remaining F-4s in Holloman Air Force Base on December 20th this year. He estimates that four Phantoms will take part in the event. There will be multiple flybys and some supersonic flying, as well as a Phinal Phantom formation of four F-4s.
The aircraft will also be making several other public appearances this year before this final send off. The most recent plans include just four stops; three of them airshows and one a NASCAR race flyover. As always, and especially with these old jets, the appearances are subject to change at any time due to weather, mechanical issues, or operational scheduling.
16-19 Sep – Reno, NV
23-26 Sep – MCAS Miramar, CA
14-17 Oct – Ft. Worth Alliance, TX
6 Nov – NASCAR Sprint Cup Flyby at Texas Motor Speedway
10-14 Nov – Nellis AFB, NV
Holloman Air Force Base is located near Alamogordo, New Mexico and is home to multiple flight groups such as F-16s of the 54th Fighter Group and the German Air Force Flying Training Center of the German Luftwaffe.
The Phantoms at Holloman Air Force Base are QF-4 Phantom target drones. As of EAA AirVenture 2016, 20 QF-4s remained in inventory. Not all of them will be completely destroyed, but members of the QF-4 program were told that they will need to get rid of the Phantoms one way or another. Once they are gone, the only remaining F-4 Phantom that will be airworthy in the United States is the one owned by the Collings Foundation, which has had mechanical issues for several years.
The date is currently tentative and is subject to change, but the pilots want to get the word out. So mark your calendars; USAF F-4 Phantoms will have one last hurrah in New Mexico before signing off for good this December.
For those who can't make it, rest assured that AirshowStuff will have plenty of F-4 footage coming, including more exclusive cockpit footage!