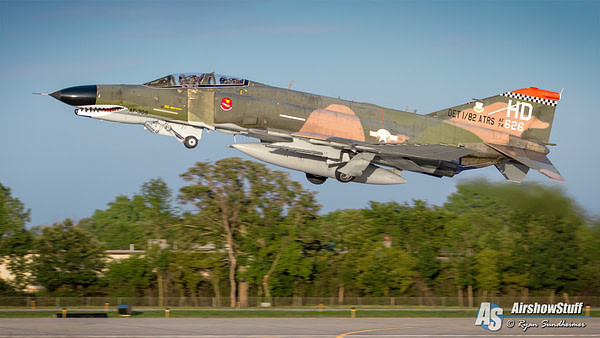 Prepare to feel the roar of the Phantom at EAA AirVenture Oshkosh 2016!
AirshowStuff has learned that plans have been finalized for not one but two mighty F-4 Phantoms to appear at the 2016 EAA AirVenture airshow in Oshkosh, Wisconsin. The plan is for both aircraft to fly in from Holloman AFB in New Mexico as a two ship formation. They will arrive Monday and depart on Thursday, with hopefully some flybys each time. Of course plans can always change, so stay tuned to AirshowStuff for any further updates we get.
As we reported in May, this is likely the final year for the F-4 in USAF service. At that time 21 of the QF-4 drone aircraft remained but some have certainly been shot down since. The program will likely come to an end before the calendar hits 2017.
Luckily, there are still a few airshows left where you will hopefully be able to see one of this legendary jets for yourself. Watch our interview with the QF-4 detachment commander and likely final USAF F-4 pilot, "Elvis" King, below to hear more.