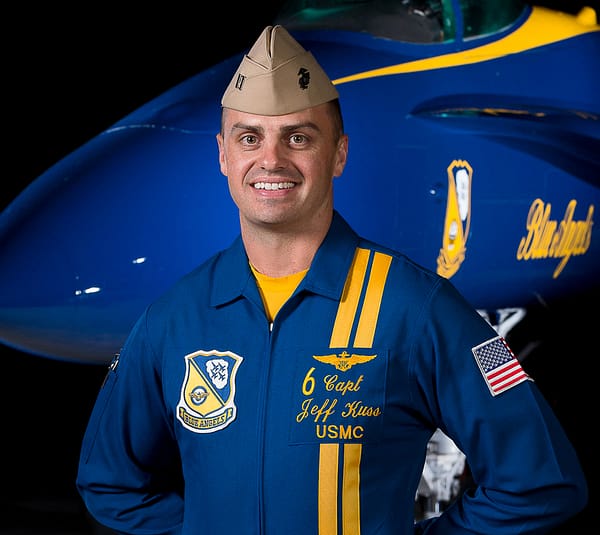 The United States Navy has concluded their investigation into the fatal crash of a Blue Angel F/A-18 Hornet earlier this year in June, which killed Marine Capt. Jeff Kuss.
The publicly released JAGMAN report lists "pilot error" as the primary cause, stating that Capt. Kuss was too low (3,196 feet) and was flying too fast (184 knots) before entering the Split-S maneuver after takeoff. The maneuver is supposed to be initiated at an altitude of no less than 3,500 feet above the ground and with an optimum airspeed of 125 to 135 knots. No mechanical or maintenance issues were discovered by the investigation.
The report also gives numerous recommendations for ways to learn from the crash and improve safety, such as reviewing and implementing changes to the Blue Angel's Standard Operation Procedures. The Split-S maneuver will not be performed in 2016 and will be reviewed before the 2017 season to potentially add extra safeguards. More specific training is urged for team members as well, including reviews of when to abort a maneuver.
In the report, Capt. Kuss' was rightfully recognized for his exceptional Navy career and his passion for showcasing Naval aviation. Vice Admiral Mike Shoemaker, Commander of Naval Air Force, U.S. Pacific Fleet said "Capt. Kuss represented the best and brightest of Naval Aviation. His loss is devastating and felt across the Naval Aviation Community." The investigation determined that Capt. Kuss died in the line of duty and not due to misconduct.
In the hours and days following the crash, countless people expressed their sadness over the loss of Blue Angel 6 and shared their stories of how he touched their lives. Capt. Kuss memory will forever live in the lives of the children and people he connected with during his time with the Blue Angels.