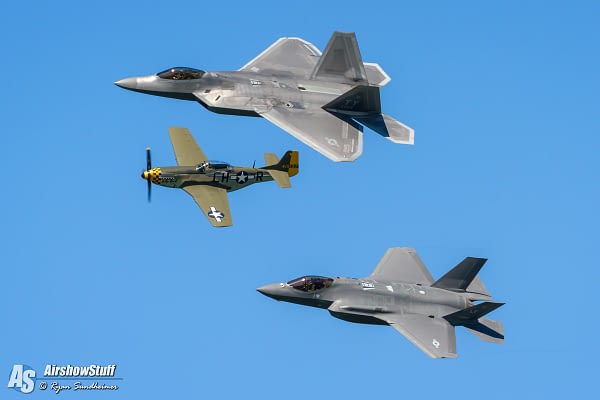 The US Air Force has released the 2017 airshow schedule for the F-35 Lightning II Heritage Team. Unlike the full aerobatic performances of the F-22 and F-16 demo teams, the F-35 will perform flybys and Heritage Flights only.
Will you see the Lightning in 2017? Let us know! Post on our Facebook page and in our forums, and make sure you share pictures after the show!
Also check out the rest of the 2017 airshow appearance schedules!
2017 Appearance Schedule – USAF F-35 Lightning II Heritage Team
April 1-2nd: Melbourne, FL
April 22nd: Louisville, KY
May 6-7th: Chino, CA
May 20-22nd: Tinker AFB, OK
June 3-4th: Duluth, MN
June 24-25th: Dayton, OH
July 1-2: New Windsor, NY
July 22-23rd: Idaho Falls, ID
July 24-30th: Oshkosh, WI – EAA AirVenture
Aug 11-13th: Abbotsford, BC
Sept 23-24th: London, ON
Sept 30th-Oct 1st: Huntington Beach, CA
Oct 13-15th: Punta Gorda, FL
Nov 4-5th: Joint Base San Antonio, TX