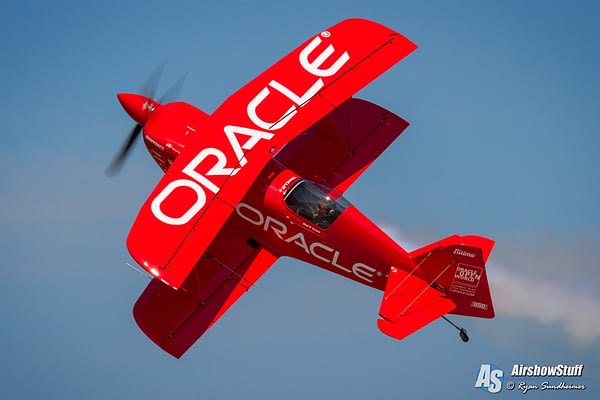 An airshow legend is preparing to move into a new era in his career. Pilot Sean D. Tucker told the Dayton Daily News that he plans to retire from solo aerobatics after the 2018 airshow season. His famous red biplane, the Oracle Challenger III, will go to the Smithsonian Air and Space Museum for permanent display. Sean has flown more than 26,000 hours over four decades of airshow appearances, and practices his hardcore aerobatic routine up to three times a day.
Sean is far from done, however. He is looking to form a formation aerobatic team for future airshow performances. A team performance would be less physically demanding than his rigorous solo routine, an important factor for a 65-year-old pilot. He has previously flown team performances, most recently as part of "The Collaborators" alongside his son Eric Tucker, Bill Stein, and Ben Freelove.
In addition to his airshow flying, Sean is the chairman of EAA's Young Eagles program that takes kids for airplane rides. He has been named one of the 25 living legends of aviation and won numerous other awards. We are excited to see what he comes up with!