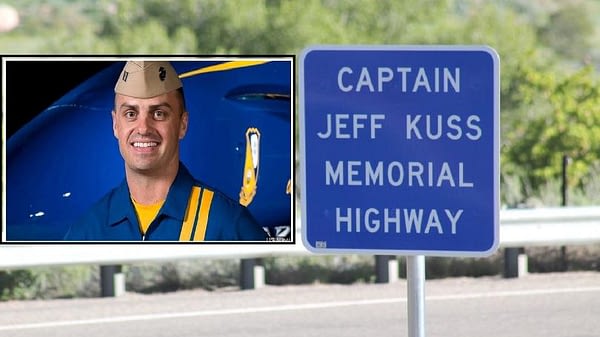 A new sign now stands as an honor to fallen Blue Angel #6. Colorado Highway 3 just outside of Durango has been renamed as the Capt. Jeff Kuss Memorial Highway in honor of the Marine pilot. The announcement comes nearly a year after the tragic accident in Smyrna, TN in which Kuss lost his life.
The resolution, brought forward by Rep. Barbara McLachlan who represents the district of Durango where Kuss resided, was formally read before the chambers of the Legislature of Colorado and passed in both the House and Senate with all members joining as co-sponsors. McLachlan said that she sees the resolution as "a tribute to Kuss, his family, and veterans across the state."
Five members of Kuss' family who live in Colorado were present in the House of Legislature for the announcement of the resolution.
The town of Smyrna, TN, where the accident occurred is also working to honor Kuss by building a memorial. They have raised half of the expected $1 million cost of the memorial but help is needed to complete the project. Click here for more information on how you can help.