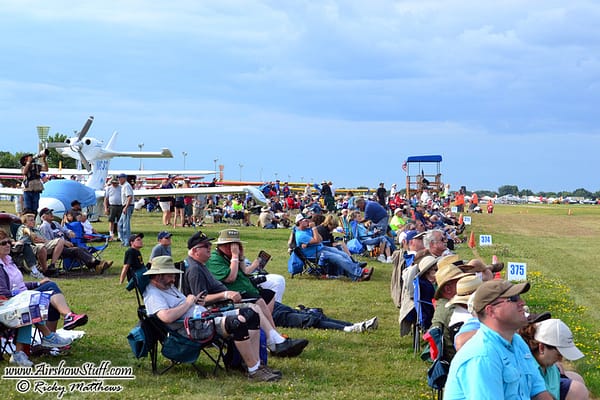 One of the best weeks of the year for aviation lovers is fast approaching, but for those who don't have tickets to EAA AirVenture Oshkosh, July 24th-July 30th can be one of the loneliest weeks of the year. Don't fear though – this year EAA has several ways to make it almost feel like you're there. Our team here at AirshowStuff has compiled some of the best methods of enjoying the 2017 show without making the trip:
Listen to EAA Radio:
On EAA Radio you can listen to the daily airshow announcer/music feed live, hear some of the world's best aviation commentary, and listen to interviews from key players in aviation. You can listen to it via the EAA Radio App, TuneIn, or by tuning your radio to 96.5 FM or 1210 AM if you're in the Oshkosh area. Hearing Rob Reider yell "I Wish I had my mother in law up there" or hearing Sean D. Tucker yell "YEAH BABY" (for the last time) is guaranteed to put a smile on any airshow fan's face!
Listen to EAA Radio on TuneIn.com
EAA Radio Schedule
EAA Radio on Twitter
EAA Radio on Facebook
Download the EAA Radio App
View the Webcams:
The great folks at EAA have set up several live webcams stretched across the airfield so that people from all across the world can feel like they're at the show. Be aware though that these cameras are not meant to show the daily airshow – they're more like webcams set up for a view during the day. There may be times when they're offline so that someone can change the view, review old footage, etc. Some certain events cannot be broadcast.
Listen to Oshkosh ATC
LiveATC.net once again has put up live streams of the Air Traffic Control communications at Oshkosh. Listen to the arrivals, the daily airshow airboss feed and more on their site. Feeds include the Airboss, Airshow Control, KOSH Tower and Approach, and more. Frequencies are also on the website if you happen to live in the area and have a scanner of your own!
Listen to OSH Tower North
Listen to OSH Tower South
Listen to FISK VFR Approach
Read the AirVenture Newspaper
The daily EAA AirVenture Newspaper, AirVenture Today, will be posted online during the week.
Follow the AirshowStuff and EAA Accounts!
AirshowStuff will have several members of our staff at EAA AirVenture, providing pictures, videos and other updates throughout the week. Make sure you're following us on Twitter and Facebook for the latest info! If you're on Twitter, search for #OSH17, the official hashtag of EAA AirVenture Oshkosh 2017! EAA's account (@EAA) will also be active during the week, so be sure to follow them too! Don't forget to follow EAA's Instagram account for cool images throughout the event and the year as well as their Facebook page. The social team at EAA has also put together a dedicated social media page called AirVenture Social, where fans and attendees can keep up with all the latest social media posts about Oshkosh.