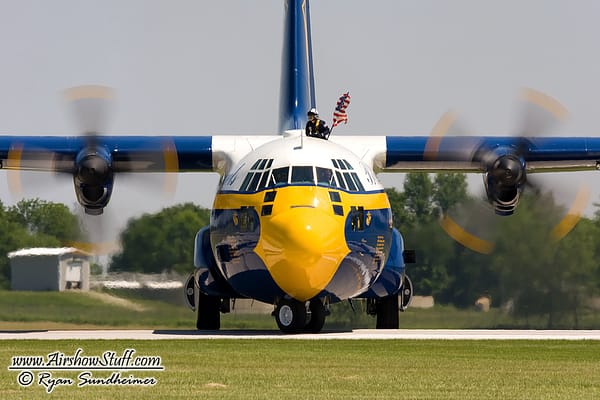 Fat Albert is grounded once again. All KC-130T Hercules aircraft, used by the Marine Corps, have been grounded as a precaution after a KC-130 crashed earlier this month in Louisiana, killing 16. This includes Fat Albert, the support aircraft of the US Navy Blue Angels demonstration team that is performing at EAA AirVenture in Oshkosh this weekend. Unfortunately she is not expected to fly in to Oshkosh or perform in the show. The team's F/A-18 Hornets will still perform as planned.
Bert actually remains on the ground in Idaho Falls, ID, where the team performed last weekend. A US Navy C-40 Clipper (737) flew in to Oshkosh to deliver the team's support staff and some equipment. There is no word on how long the stand down will last, but it indicates that there are concerns stemming from the crash that require further analysis. Fat Albert returned to airshows from a nearly year-long overhaul earlier this month.
EAA initially announced (and later reaffirmed) that all C-130s in the US military were grounded, but this was later proven to be false. Although we updated our posts as more information became available, we apologize for any confusion due to what should have been a reliable source.