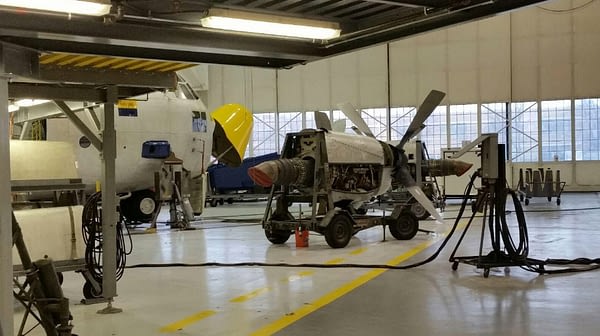 Last August, we reported that Fat Albert, the famous C-130 Hercules flown by the US Navy Blue Angels, was undergoing a massive maintenance overhaul at Hill AFB in Utah. The rework caused the beloved aircraft to miss the remainder of the 2016 season, and the Marine Corps crew borrowed a standard KC-130 to transport the team's equipment. They could not perform in the backup, known always as "Ernie", due to differences in the airframe.
Now, it looks like Bert will still be undergoing maintenance as the 2017 airshow season starts.
@church_of_chris unfortunately no. My flight demonstration return date is still up in the air.

— Fat Albert (@fatalbertusmc) February 22, 2017
In a tweet to a fan on the Fat Albert Twitter Account, "Bert" announced she'll miss the first show of the season at NAF El Centro in California. Other photos posted to Twitter show the propellers detached from the aircraft and the iconic gold paint on the nose of Fat Albert.
At this time, no return date for Fat Albert has been released but we have heard that the team expects to get the aircraft back in March. Once Bert is back in service, it will take the crew 5 or 6 weeks to train up to demo standards, so the first performance may not be until late April or early May. Get well soon, Bert!