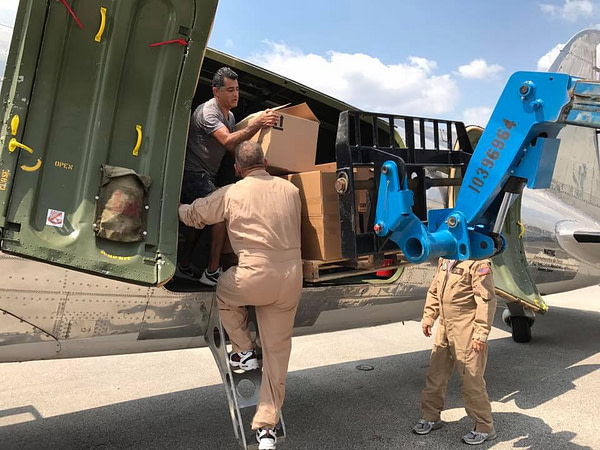 On Friday, August 25th, the eye of Hurricane Harvey, a strong category 4 hurricane with winds of 140 mph, made landfall near Rockport, TX. Over the next week, the center of Harvey would sit and spin over Texas, dropping 40-50 inches of rain! This amount of rain resulted in catastrophic and life threatening flooding across southeast Texas, including the Beaumont, TX area.
Beaumont sits about 1 hour and 15 minutes to the east of the Houston Metro. When Harvey's rains hit, the town's 118,000+ people were devastated. While most of the national media's attention was on the Houston Metro, other areas in Texas were also struggling.
In Georgetown, TX, located outside of Austin, citizens started gathering supplies. A call went out for general aviation aircraft and pilots in the area to help take supplies down to Beaumont. The Commemorative Air Forces's Highland Lakes Squadron, with their Douglas C-47 "Bluebonnet Belle", answered that call.
The C-47 has a history of transporting important cargo. During World War II, the platform was used to carry jeeps, troops, or up to 6,000 pounds of other cargo. It was used by every branch of the US military and all of the major allied powers.
When Texas needed it, the C-47 stepped back into service – more than 70 years after the war that made the type famous. The cabin was loaded with diapers, food, and water before the aircraft launched on the hour and a half trip from Georgetown to Beaumont.
In a post on the Commemorative Air Force Facebook page, the CAF said, "When the Texas National Guard showed up with their Deuce and a half truck, we knew we had brought supplies to the right place. A troop of soldiers descended on the C-47 unloading box after box directly onto the military truck. This was only the first load of supplies and so long as there is a need the CAF is planning to help."
Photos from David Oliver
The C-47 wasn't the only aircraft that helped with Harvey relief. The B-25 Mitchell "Devil Dog", also a CAF aircraft, transported supplies to impacted areas as well. These including, rather fittingly, 500 pounds of dog food for displaced pets.
Well done by these resilient old airframes and the volunteers that support, maintain, and fly them!