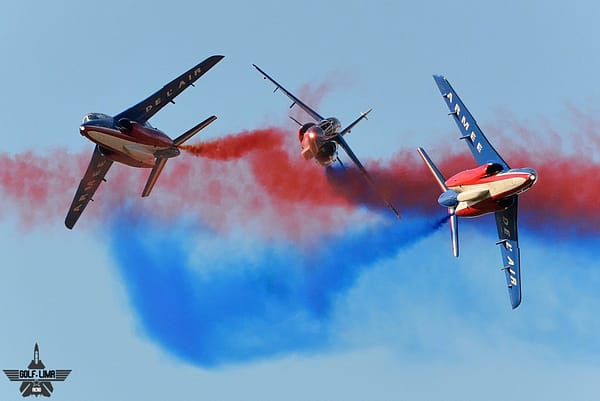 Although we first reported on it in November, the Patrouille de France officially announced their 2017 North American tour today and unveiled all of the stops on their schedule. See below for a full list of their appearances, which is translated and subject to change. The team also released the logo of their tour, which curiously mentions the US but not Canada.
The Patrouille de France is the French equivalent of the Blue Angels or Thunderbirds, and performs precision formation aerobatics using Dassault/Dornier Alpha Jets. Their aircraft will sport special paint schemes during the 2017 season to commemorate their tour, which coincides with the 100th anniversary of America's entry into World War I in France. According to their graphic, they will travel with ten Alpha Jets and one A-400M airlifter.
Will you see the Patrouille de France in 2017? Let us know! Post on the AirshowStuff Facebook page or on our forums, and make sure you share pictures after the show!
2017 North American Tour Appearance Schedule – Patrouille de France
March 19th: Arrive Bagotville, QC
March 25th: Statue of Liberty Flyby, New York (12pm)
March 26th: Washington DC flyby (1pm) and reception with French Ambassador
April 1st and 2nd: Melbourne Air Show, FL
April 3rd and 4th: Sun-n-Fun Airshow, Lakeland, FL
April 5th and 6th: Commemoration of the 100th Anniversary of US entry into WW1, Kansas City, MO
April 7th-9th: Maxwell AFB Airshow, AL
April 10th-12th: Visit w/USN Blue Angels at NAS Pensacola, FL
April 12th: Flyby over Trescal Factory, Dallas, TX
April 12th: Refueling in Santa Fe, NM
April 13th: Grand Canyon, AZ Flyby/photoshoot
April 13th-16th: California Capitol Airshow, Sacramento & Golden Gate Bridge Flyby in San Francisco, CA
April 17th-18th: Visit w/USAF Thunderbirds at Nellis AFB, NV
April 19th: Refueling at Peterson AFB and USAF Academy Flyby, CO
April 19th: Refueling at Scott AFB, IL
April 20th-21st: VIP Event at Langley AFB, VA
April 22nd-23rd: Airshow at Stewart ANG Base, NY
April 28th-29th: NATO Tattoo in Norfolk, VA
April 30th: Wings Over Gatineau Airshow, Gatineau, QC
May 1st: Montreal, QC
May 2nd: Quebec City, QC
May 4th: Departure from Bagotville, QC