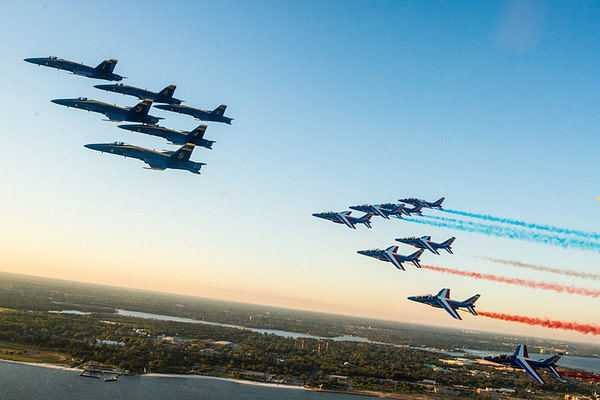 The world's two oldest military flight demonstration teams flew together Sunday night as the US Navy Blue Angels returned to Pensacola from Sun 'n Fun with the Patrouille de France in tow to spend a few days with the team.
The eight Alpha Jets of the Patrouille teamed up with the Blue's six F/A-18 Hornets at sunset, flying down the coastline and creating a fantastic photo opportunity for Blue Angel #7 to snap a few pictures, like the one above.
Check out this video posted by a boater off the coast of Pensacola!
The French team's visit is part of a nationwide tour that takes them from coast to coast. The team just wrapped up the central Florida portion of the visit with airshow performances in Melbourne, FL and Lakeland, FL.
Below are some photos provided by the Blue Angels Association!
Have a photo or video you took? Post it on our Facebook wall or our forums! We'd love to see it.