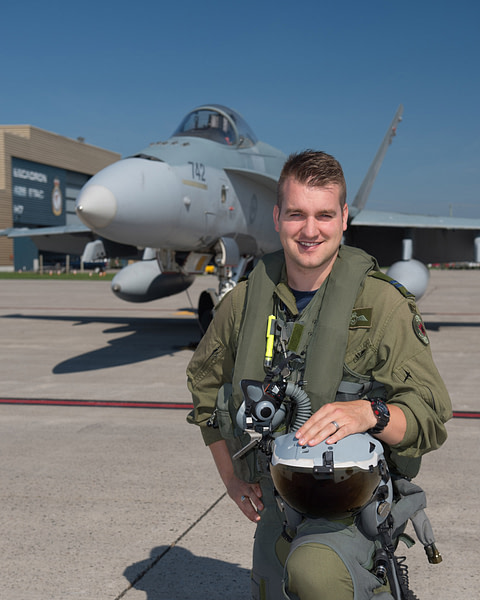 The Royal Canadian Air Force (RCAF) has announced the CF-18 Hornet demonstration pilot for the 2018 airshow season, as well as the theme for the 2018 team.
Captain Stefan "Porcelain" Porteous will be the demonstration pilot for the 2018 season. He is from Comox, British Columbia and earned his private pilot license in 2005 after first learning to fly gliders with the Royal Air Cadets. He joined the RCAF in 2008 and qualified to fly the CF-18 Hornet in 2014. Capt. Porteous is currently part of 433 Tactical Fighter Squadron at 3 Wing in Bagotville, Quebec.
The theme he will be flying for in 2018 is the 60th anniversary of the North American Aerospace Defense Command (NORAD). NORAD is the military command charged with defending North American airspace. It was jointly established in 1958 by Canada and the United States and continues to maintain a 24/7 watch to protect both countries.
Assuming tradition holds, the aircraft assigned to the demonstration team will be given a special paint scheme (designed by Jim Belliveau) celebrating this theme. The 2017 demo jet, flown by Capt. Matthew "Glib" Kutryk, featured a stunning red and white paint scheme celebrating Canada 150, the 150th anniversary of the country's confederation.
Previous demo paint schemes have ranged from special tails to designs covering the entire aircraft. During a live video interview, Capt. Porteous reported that the 2018 scheme will be a full aircraft design with midnight blue as the primary color. More details on the 2018 paint scheme will be released at a later date!
Take a look at the 2018 CF-18 Hornet demonstration schedule to see if the team will be performing near you!
Quotes from the press release:
"I am extremely honoured to have been selected as Canada's 2018 National CF-18 Demonstration Team pilot. I am very much looking forward to commemorating 60 years of NORAD at air shows throughout the summer while having the opportunity to be part of a highly dedicated team that will work together to put on thrilling performances aimed at demonstrating the professionalism and skill of the men and women of the RCAF. I look forward to meeting as many people as possible over the course of the coming demonstration season."
– Capt. Porteous, 2018 CF-18 demonstration pilot
"As the Commander of the Canadian NORAD Region, I am thrilled to have the opportunity to showcase the important NORAD mission and our important bi-national partnership through the 2018 National CF-18 Demonstration program. The men and women of NORAD work diligently to keep watch over our countries and to protect the air sovereignty of North America. Twenty four hours a day, seven days a week, no matter what – we have the watch."
– Major-General Christian Drouin, the commander of 1 Canadian Air Division/Canadian NORAD Region