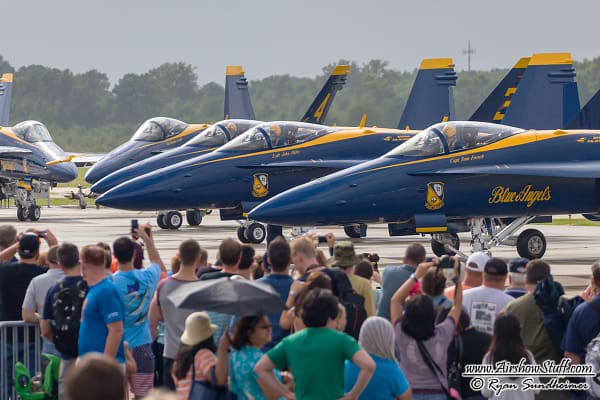 Here is the 2018 airshow schedule for the US Navy Blue Angels! Will you see them in 2018? Let us know! Post in the AirshowStuff Forums or on the AirshowStuff Facebook page and make sure you share pictures after the show!
Schedules often change during the year – for the latest updates please be sure to check our forums!
2018 Appearance Schedule – US Navy Blue Angels
March 10: NAF El Centro Airshow – NAF El Centro, CA
March 17-18: Luke Days 2018 – Luke AFB, AZ
March 24-25: Wings Over South Texas Air Show – NAS Kingsville, TX
April 7-8: Heart of Texas Airshow – Waco, TX
April 14-15: Tuscaloosa Regional Airshow – Tuscaloosa, AL
April 21-22: Vero Beach Air Show – Vero Beach, FL
April 28-29: Wings Over Myrtle Beach – Myrtle Beach, SC
May 5-6: MCAS Cherry Point Airshow, MCAS Cherry Point, NC
May 12-13: MacDill AFB Air Fest – MacDill AFB, FL
May 23: U.S. Naval Academy Air Show – Annapolis, MD
May 25: U.S. Naval Academy Graduation – Annapolis, MD
May 26-27: Bethpage Jones Beach Air Show – Wantagh, NY
June 2-3: NAS Patuxent River 75th – Patuxent River, MD
June 9-10: Rhode Island National Guard Air Show – North Kingstown, RI
June 16-17: Chippewa Valley Air Show – Eau Claire, WI
June 23-24: Vectren Dayton Air Show – Dayton, OH
June 30-July 1: National Cherry Festival Air Show -Traverse City, MI
July 14: Pensacola Beach Air Show – Pensacola Beach, FL
July 21-22: Biloxi Gulf Coast Air Show – Keesler AFB, Biloxi, MS
July 28-29: Fargo Airshow – Fargo, ND
August 4-5: Boeing Seafair Air Show – Seattle, WA
August 11-12: Abbottsford International Air Show – Abbotsford, BC
August 18-19: Terre Haute Air Show – Terre Haute, IN
August 25-26: Sound of Speed Air Show – St Joseph, MO
September 1-3: Cleveland National Air Show – Cleveland, OH
September 15-16: Owensboro Air Show – Owensboro, KY
September 22-23: NAS Oceana Airshow – NAS Oceana, Virginia Beach, VA
September 29-30: MCAS Miramar – San Diego, CA
October 6-7: San Francisco Fleet Week – San Francisco, CA
October 13-14: Aviation Round Up – Minden-Tahoe, NV
October 20-21: Wings Over Houston Air Show – Houston, TX
October 27-28: NAS Jacksonville Airshow – NAS Jacksonville, FL
November 2-3: Blue Angels Homecoming Airshow – NAS Pensacola, FL
Want to look a little further ahead? We also have a copy of the preliminary 2019 US Navy Blue Angels schedule!