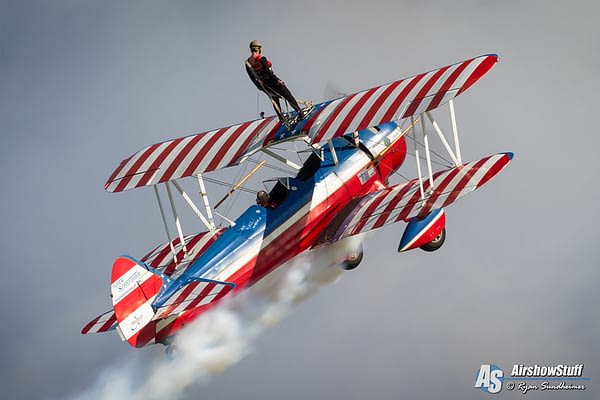 The 2018 recipient of the Bill Barber Award for Showmanship is Greg Shelton, someone known across the airshow industry for his various acts and performances.
Shelton, who began performing in airshows in 1990, had an interest in aviation from an early age. In 1982, Greg began flying lessons in a J-3 Cub, but traded in the Cub for a Starduster Too so he could persue aerobatics. That decision certainly paid off!
Today, Greg is well known for his 450 Super Stearman act and FM-2 Wildcat aerobatic performances. In 2017, Greg and his wife/wing walker Ashley Shelton added a nighttime wing walking act to their plethora of performances, once again bringing creativity to the world of airshows. Greg's 2018 show season includes 12 airshows in both the Super Stearman and Wildcat.
Presented annually by World Airshow News and friends and family of the late Bill Barber, airshow performer extraordinaire, the award recognizes an airshow entertainer who has demonstrated superb showmanship ability. Past recipients compose the selection committee.
Previous award winners include:
2017 Kyle Franklin
2016 Manfred Radius
2015 Bob Carlton
2014 Greg Koontz
2013 Skip Stewart
2012 Matt Younkin
2011 Rich and Dee Gibson
2010 Steve Oliver and Suzanne Asbury-Oliver
2009 Mike Goulian
2008 Bud Granley
2007 Dacy Family Airshow Team (Dave, Phil, Julia, and Susan Dacy and Tony Kazian)
2006 Danny Clisham
2005 Kent and Warren Pietsch
2004 Bobby Younkin
2003 Jim LeRoy
2002 AeroShell Aerobatic Team
2001 Northern Lights Aerobatic Team
2000 John Mohr
1999 Dan Buchanan
1998 Patty Wagstaff
1997 Gene Soucy & Teresa Stokes
1996 Wayne Handley
1995 Bob Hoover
1994 Bob & Annette Hosking (Otto)
1993 Red Baron Stearman Squadron (Steve Thompson, John Bowman, Sonny Lovelace, Randy Drake, and Jerry & Margaret Van Kempen)
1992 Sean D. Tucker
1991 Julie Clark
1990 Leo Loudenslager
1989 Jim Franklin
1988 No recipient
1987 The French Connection (Daniel Heligoin & Montaine Mallet)
The award will be formally presented in a special evening ceremony on Tuesday, July 24th at Theater in the Woods at EAA AirVenture in Oshkosh, WI.