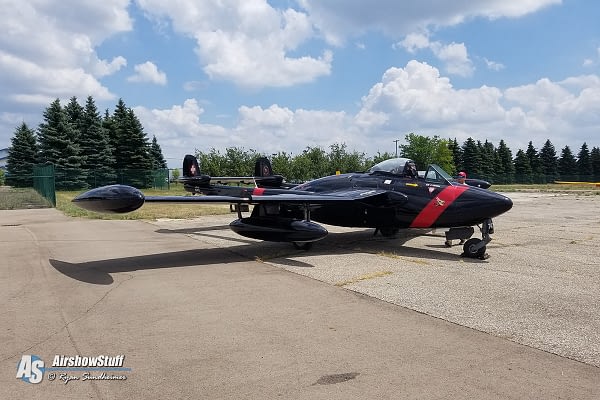 Pilot Marty Tibbitts was killed on Friday when his de Havilland DH-112 Venom aircraft crashed shortly after takeoff. Marty was on a formation training flight when the accident occurred. The aircraft crashed into a barn near the airport, killing dozens of livestock and injuring two people on the ground.
The Venom, along with a de Havilland Vampire and rare Gloster Meteor, was to be a featured performer at EAA AirVenture 2018 in Oshkosh, WI. All three are owned by the World Heritage Air Museum, based out of Detroit, Michigan. The formation training flight was in preparation for the show.
The Venom is a Cold War-era British jet which served with the Royal Air Force as a single-seat bomber and a two-seat night fighter. According to the World Heritage Air Museum, there are only 4-6 flying Venoms in the world, including the one they had. The aircraft was the only one of its type flying in the US.
Sadly, we filmed Marty flying the Venom just one week before the crash. We present this video in his memory. May he rest in peace.