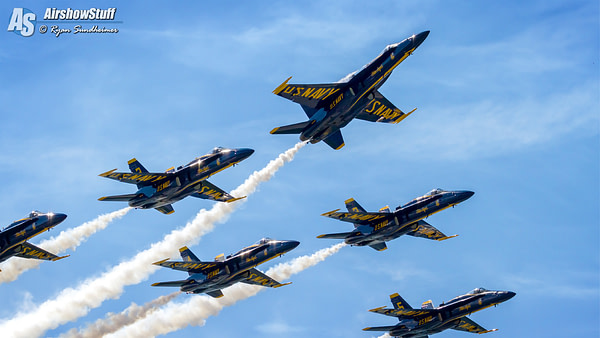 Fans of the US Navy Blue Angels expecting to see the team perform in Super Hornets will have to wait several more years at least. The Department of Defense announced today that Boeing has been awarded a contract for the documentation and kits to convert nine single-seat F/A-18Es and two dual-seat F/A-18Fs to Blue Angel configuration. The most notable part of the announcement is that this work is not expected to be completed before December of 2021, which would seemingly prevent the team from transitioning until 2022 or more likely 2023 at the earliest.
The team currently flies aging F/A-18B/C/D "Legacy" Hornets. The old and worn down jets create many maintenance issues for the squadron and it has become more and more common to see performances limited by the number of available aircraft, even though a spare travels with the team.
Several major incidents, including the crash of Blue Angel #6 Capt. Jeff Kuss in 2016, left the team with even fewer spares than usual. Even with the coming transition, the team has continued to receive additional Hornets as the Navy retires them from frontline units in favor of Super Hornets and F-35 Lightning IIs.
The Super Hornet transition has been public knowledge for a while now, a firm timeline has never been announced to the public; likely because even the Navy didn't have firm plans. Certain details have emerged from interviews and previous contract announcements, but many fans have drawn false conclusions from these tidbits that the transition was/is imminent; one airshow vendor went as far as to create 'Hornet Farewell Tour' t-shirts during the 2017 season. Today's announcement gives some clarity to the situation, and serves as a needed reality check on rumors and speculation.
Want to see the Blue Angels perform in person? Check out their 2018 airshow schedule and preliminary 2019 airshow schedule!
Here is the full text of the announcement:
The Boeing Co., St. Louis, Missouri, is being awarded $17,002,107 for firm-fixed-price delivery order N0001918F2654 against a previously issued basic ordering agreement (N00019-16-G-0001). This order is for the retrofit documentation and kits to convert nine F/A-18E and two F/A-18F aircraft into a Blue Angel configuration in accordance with engineering change proposal 6480. Work will be performed in St. Louis, Missouri, and is expected to be completed in December 2021. Fiscal 2018 aircraft procurement (Navy) funds in the amount of $17,002,107 will be obligated at time of award, none of which will expire at the end of the current fiscal year. The Naval Air Systems Command, Patuxent River, Maryland, is the contracting activity.