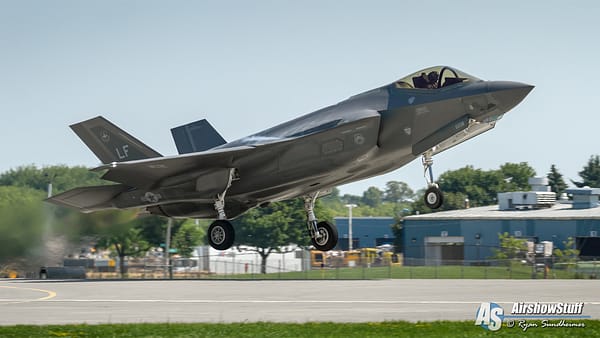 Airshow fans can look forward to a new jet demo on the airshow circuit next year!
Air Combat Command announced today that the F-35A Lightning II group will be upgraded from a "Heritage Flight Team" to a full-up "Demonstration Team" to bring it in line with the other US Air Force single-ship demo teams which fly the F-22 Raptor, A-10 Thunderbolt II, and F-16 Fighting Falcon.
ACC actually leaked the news a bit early by posting the team's new "Demo Team" patch on their website a couple weeks ago. We embargoed the news at the team's request and the patch was quickly taken down pending the official announcement.
The 2019 demonstration pilot will be Capt. Andrew "Dojo" Olson, who flew as the team's display pilot in 2018 and earned rave reviews for his flybys.
Fans have been asking about an F-35A demo for years. The USAF F-35 Heritage Team began performing in 2016. Instead of jumping straight to an aerobatic routine with the brand new aircraft, the performance was limited to performing Heritage Flights and some non-aerobatic solo flybys. Now, with a few years of airshow experience and a more mature aircraft, the team is being allowed to turn it loose and show off more dynamic maneuvers.
"The past year's demonstration was sort of like an 'appetizer' if you will," said Capt. Andrew "Dojo" Olson, F-35 Demonstration Team pilot and commander. "The new profile this year will be the full 'five-course meal' showing fans everything this jet is capable of."
According to Olson, the new 13 minute-long profile will highlight the F-35A Lightning II's numerous capabilities to include speed, agility, and high-G turning.
"What makes the fifth generation fighter so special in general is the slow-speed, high angle of attack maneuvering it can do," Olson said. "We're also going to be performing controlled flat spins while falling out of the sky as well as high-speed passes and vertical climbs."
Lockheed Martin test pilot Billie Flynn finally put the F-35A through its paces at the 2017 Paris Airshow, and many expected that it signaled a military demonstration would follow. In fact, reports from that time indicated the Air Force was working closely with Lockheed on establishing the routine in preparation for launching this demo team in 2018. That obviously didn't happen, but the team's flybys have gotten more aggressive with time. This is a very exciting development – the first new jet demonstration since the F-22 Raptor debuted over 10 years ago.
Wondering where you can see the F-35 next year? Luckily, the F-35 Demonstration Team's 2019 schedule was also made public today!
Stay tuned to AirshowStuff for more details on this exciting new performance and be sure to add your thoughts on the news in our forums!