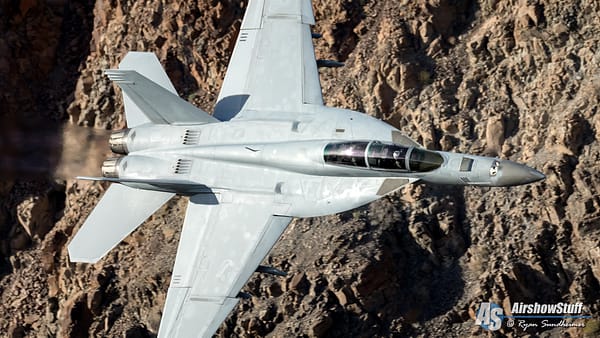 Star Wars Canyon has exploded in popularity over the last few years, and in early March we decided to stop by and see what we could catch.
As part of a week long trip all around the Southwest – from Davis-Monthan AFB in Tucson up to Nellis AFB in Las Vegas to Star Wars Canyon to the Blue Angels' practice at NAF El Centro and the MCAS Yuma Airshow in Arizona – Ryan and Dave spent a day and a half at the canyon collecting photos and videos. If you follow us on Youtube and Instagram, you've already seen some of the results.
What is Star Wars Canyon? It's a fairly remote canyon in Death Valley National Park with a low level military training route running right down the middle. Aircraft in the area for testing or training can join the route (called the "Sidewinder") at various points and follow it through the hills and valleys at altitudes of 500 feet or even lower. Aircraft typically approach the canyon from the west, often descending below the rim and turning to follow its curves until it empties out to the much larger Panamint Valley below. There is a paved parking lot and overlook on the edge of the canyon where spotters can sit and wait for the aircraft to come by. There is no schedule, and traffic can be constant or nonexistent. What you see is luck of the draw!
Sometimes called "America's Mach Loop" in relation to the famous low level training area in the UK, the canyon has existed for decades but has rapidly gained attention in recent years as one of the very few places where one can see military jets – or any aircraft for that matter – racing by at or even below eye level. The increased attention has ignited fears that the area will be overrun (some argue it already is) and eventually abandoned as a flight route, so it is important for anyone who visits to be prepared and respectful.
As for our visit, it was a borderline miserable experience weather-wise; chilly, windy, and on the second day very overcast with rain showers all around. This is supposed to be the desert! Traffic through the canyon was mostly limited to F/A-18 Super Hornets and F-16 Fighting Falcons, but the star of the trip was a Marine Corps F/A-18C Hornet from VMFAT-101 "Sharpshooters" painted in stunning brown camouflage. Plenty of other jets, like F-35 Lightning II stealth fighters from Edwards AFB, were in the area, but they declined to drop in for our cameras. Still, we got some incredible shots and we are excited to share a joint photo album and a video compilation of the flybys.
Bonus:
Just a week before our visit, Wayne Day was paying a visit to Star Wars Canyon himself when he noticed a peculiar shape flying in Panamint Valley. He managed to capture this video of the F-117 Nighthawk cruising by at just 200 feet over the desert floor! The F-117 was officially retired in 2008, but the airframes are kept in flyable storage at the secretive Tonopah Test Range airport. Their current use is unknown, but they have been sighted in the area on several recent occasions.