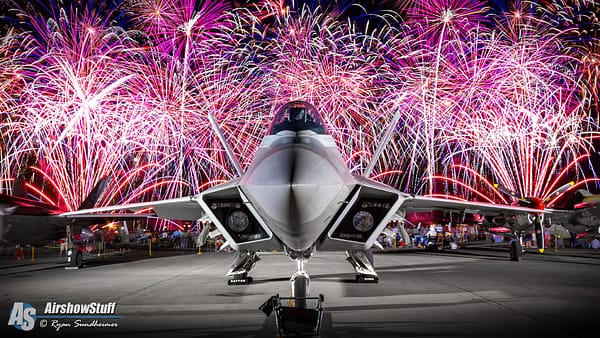 EAA has released the preliminary airshow schedule for AirVenture 2019!
As usual, this early list is subject to change is outlines what will fly each day, but does not include specific times. However, the list does offer a good look at what to expect, and includes some surprises that we are excited to see! Here are some of the first things that we've noticed:
We already knew that three of the US Air Force's four single-ship demonstration teams – the F-22 Raptor, F-35 Lightning II, and A-10 Thunderbolt II – would be performing mini-demos and Heritage Flights during the week, but there was some question as to what days and what combinations they might fly. This schedule includes a number of Heritage Flights beginning on Tuesday and running through the final Sunday. Wednesday seems to indicate that three different Heritage Flights will be flown, including an F-35 flight during the twilight show. The F-22 will fly during the twilight show on Saturday. Given the variety of warbirds present in Oshkosh, we should get some great combinations!
Keeping with the military, there are multiple A-10 close air support (CAS) demonstrations planned, which are separate from the A-10 demo team and should feature a pair of A-10s conducting a simulated attack on the airfield, similar to their performance in 2017. Pyro should be expected!
US Navy Legacy Flights are scheduled for Wednesday through Sunday, and it will be interesting to see how they are organized since multiple US Navy aircraft are expected to attend. The E/A-18G Growler, T-45 Goshawk, and T-6 Texan II are new to the Legacy Flight program this year, so we should be in for some special formations that aren't commonly seen.
Many of the fan favorite civilian aerobatic performers like Skip Stewart, Jeff Boerboon, Matt Younkin, Kyle Franklin, Greg Koontz, Bob Carlton, and Rob Holland return to the lineup. This portion of the schedule remains largely the same year to year, but new acts include the Shetterly Squadron and the Rocky Mountain Renegades.
Aerial firefighting was mentioned early on as a theme for this year's event, and indeed there is a firefighting demonstration planned for every day. It remains to be seen what this will incorporate, but it should be fairly interesting and unusual compared to many of the standard airshow acts.
The warbird segments of the show are always grab bags until the takeoffs start, but the themes appear to be trainers on Tuesday, P-51s on Thursday (including a tribute to Col. Bud Anderson), Navy aircraft on Friday, and D-Day on Saturday which will feature members of the D-Day Squadron after their return from Europe. Other warbirds like an F8F Bearcat, P-40 Warhawk, and Supermarine Spitfire are listed specifically, indicating they will likely get special sections of the show.
The most anticipated warbird appearance is certainly the XP-82 Twin Mustang, the only one of its kind flying following a lengthy restoration. It appeared at Sun 'n Fun earlier this year and will generate a huge following in Oshkosh. The XP-82 will be featured on Saturday, but may fly with the warbirds earlier in the week as well.
Finally, several arrivals and departures are noted; USAF T-38s on Monday, a UPS 747 departure on Thursday, and a US Navy F-35C Lightning II on Friday. Random arrivals and departures are always the best part of the event, and this list is only what is planned for the airshow portion of the event. Expect many more, with some details not available until the day of!
Take a look at the full daily airshow schedule below and let us know what you're most excited to see in the EAA AirVenture Oshkosh 2019 thread on our forums!
Monday, July 22 – EAA's 50th Consecutive Year in Oshkosh
Day: Patriot Parachute Team; EAA's P-64 and Baby Ace; Rob Holland (MX2), Bill Stein (Edge 540), and Matt Chapman (Extra 330LX); David Martin (Beechcraft Baron); Warbirds of America arrival show; Josh Boudreaux (RV-8A); Kyle Franklin (Dracula); International Aerobatic Club Giles 25th; U.S. Air Force T-38s; The Shetterly Squadron (DR-107 One Design; SNJ-6, RV-8); Bob Carlton (SubSonex JSX-2); Matt Younkin (Twin Beech 18); Gene Soucy (Grumman Showcat); Aerial Firefighting Demo; John Klatt (Screamin' Sasquatch Jet Waco); Aeroshell Aerobatic Team (T-6 Texans); Rocky Mountain Renegades (Aircraft: Van's RV-8, Van's RV-4, Giles G-202)

Evening (8 p.m.): Twilight Flight Fest at the Fun Fly Zone – EAA STOL Invitational flying, Paradigm Aerobatic Team, Patriot Parachute Team, 3D RC flying with Ashleigh Heath, Jase Dussia, Kevin St-Cyr
Evening (8 p.m.): – Hot Air Balloon Glow just off Boeing Plaza

Tuesday, July 23 – Innovations Day
Day: Patriot Parachute Team, C-130, Sean D. Tucker (Oracle Challenger III) and Jessy Panzer (Pitts Special), John Klatt (Screamin' Sasquatch Jet Waco), Jeff Boerboon (Yak-110), Red Bull Air Force (Edge 540, MBB Bo 105 helicopter, wingsuits), Adventures of Aviore, Homebuilts Review, Kyle Fowler (Rutan Long-EZ), Warbirds of America show (trainers), Trojan Thunder (T-28 Trojans), Aerial Firefighting Demo, Kyle Franklin (Dracula), USAF Heritage Flight, USAF F-22/F-35/A-10 Demo Teams, Bill Barber Award Winner

Evening (8 p.m.): Twilight Flight Fest at the Fun Fly Zone – EAA STOL Invitational flying, Paradigm Aerobatic Team, Patriot Parachute Team, 3D RC flying with Ashleigh Heath, Jase Dussia, Kevin St-Cyr

Wednesday, July 24 – WomenVenture
Day: 122nd Fighter Wing A-10 CAS Demo, USAF A-10 Demo Team, USAF Heritage Flight, Patty Wagstaff (Extra 300S), Vicky Benzing (Extra 300L), Julie Clark (T-34 Mentor), Seaplane Base Showcase, Warbirds of America show, U.S. Navy Legacy Flight, Vintage Review, Jim Peitz (Beech Bonanza), Patriot Parachute Team, Rob Holland (MX2), Bill Stein (Edge 540), Aerial Firefighting Demo, Mike Goulian (Extra 330SC), Red Bull Air Force (Edge 540, MBB Bo 105 helicopter, wingsuits), USAF Heritage Flight, ), USAF F-22 Demo Team, Rocky Mountain Renegades (Aircraft: Van's RV-8, Van's RV-4, Giles G-202)

Evening (Night Air Show): Patriot Parachute Team, USAF F-35 Demo Team, USAF Heritage Flight, Class of '45 with Jim Tobul and Scott Yoak (Corsair and Mustang), Red Bull Air Force (MBB Bo 105 helicopter, wingsuits), Aeroshell Aerobatic Team (T-6 Texans), Randy Ball (MiG 17), Bob Carlton (SubSonex JSX-2), Gene Soucy (Firecat), Patriot Parachute Team, Matt Younkin (Twin Beech 18), Nate Hammond (de Havilland Chipmunk), drone show, Redline Airshows (RV-8s), fireworks

Thursday, July 25 – Young Eagles, Push to Victory – European Theater and Bud Anderson Tribute
Day: Patriot Parachute Team, Sean D. Tucker (Oracle Challenger III) and Jessy Panzer (Pitts Special), Jim Peitz (Beech Bonanza), John Klatt (Screamin' Sasquatch Jet Waco), Jeff Boerboon (Yak-110), Red Bull Air Force (Edge 540, MBB Bo 105 helicopter, wingsuits), various Burt Rutan airplane designs, The Shetterly Squadron (DR-107 One Design, SNJ-6, RV-8), U.S. Navy Legacy Flight, Warbirds of America show (including P-51s), Bud Anderson tribute, USAF Heritage Flight, F-22/F-35/F-86/P-51, Adventures of Aviore, Aerial Firefighting Demo, David Martin (Beechcraft Baron), Kevin Coleman (Extra 300 SHP), UPS 747 departure

Evening (8 p.m.): Twilight Flight Fest at the Fun Fly Zone – EAA STOL Invitational flying, Paradigm Aerobatic Team, Red Bull Air Force, Patriot Parachute Demo Team, 3D RC flying with Ashleigh Heath, Jase Dussia, Kevin St-Cyr

Friday, July 26 – Salute to Veterans Day, Push to Victory – Pacific Theater
Day: Veterans Parade, Patriot Parachute Team, USAF Heritage Flight, USAF F-22/F-35/A-10 Demo Teams, Matt Chapman (Extra 330LX), Gene Soucy (Grumman Showcat), Aerial Firefighting Demo, Skip Stewart (Prometheus 2), Red Bull Air Force (MBB Bo 105 helicopter), Patty Wagstaff (Extra 300S), Aeroshell Aerobatic Team (T-6 Texans), Julie Clark (T-34 Mentor), Thom Richard (P-40 Warhawk), Warren Pietsch (F-8F Bearcat), Warbirds of America show (Navy focus), U.S. Navy Legacy Flight, U.S. Navy F-35C arrival
6:05 p.m. – Old Glory Yellow Ribbon Honor Flight Arrival

Evening (8 p.m.): Twilight Flight Fest at the Fun Fly Zone – EAA STOL Invitational flying, Paradigm Aerobatic Team, Red Bull Air Force, Patriot Parachute Demo Team, 3D RC flying with Ashleigh Heath, Jase Dussia, Kevin St-Cyr

Saturday, July 27 – Year of the Fighter, Push to Victory – D-Day 75th Anniversary
Morning: 6 a.m. – Hot Air Balloon Launch at the Ultralight Runway
Day: Patriot Parachute Team, Mike Goulian (Extra 330SC), Jim Peitz (Beech Bonanza), Red Bull Air Force (MBB Bo 105 helicopter), Aerial Firefighting Demo, Jeff Boerboon (Yak-110), Sean D. Tucker (Oracle Challenger III) and Jessy Panzer (Pitts Special), U.S. Navy Legacy Flight, Stu Dawson (EAA's P-64), Class of '45 with Jim Tobul and Scott Yoak (Corsair and Mustang), Warbirds of America show (D-Day focus with C-47s), Warren Pietsch (P-51) and Bernie Vasquez (Spitfire), Ray Fowler (XP-82 Twin Mustang), 122nd Fighter Wing A-10 CAS Demo, USAF A-10 Demo Team, USAF Heritage Flight with F-35 and A-10

Evening (Night Air Show): Patriot Parachute Demo Team, USAF F-22 Demo Team, USAF Heritage Flight, Julie Clark (T-34 Mentor), Red Bull Air Force (MBB Bo 105 helicopter, wingsuits), Aeroshell Aerobatic Team (T-6 Texans), Randy Ball (MiG 17), Bob Carlton (SubSonex JSX-2), Patriot Parachute Demo Team, Gene Soucy (Firecat), Matt Younkin (Twin Beech 18), Nate Hammond (de Havilland Chipmunk), Twin Tigers (Yak-55), drone show, Redline Airshows (RV-8), fireworks

Sunday, July 28 – Closing Day
Day: USAF F-22 Demo Team, USAF Heritage Flight, David Martin (Beechcraft Baron), Vicky Benzing (Extra 300L), Kyle Fowler (Rutan Long-EZ), Aerial Firefighting, Kyle Franklin (Dracula), USAF A-10 Demo Team, USAF Heritage Flight, Skip Stewart (Prometheus 2), Redline Airshows (RV-8), The Shetterly Squadron (DR-107 One Design, SNJ-6, RV-8), Kevin Coleman (Extra 300 SHP), U.S. Navy Legacy Flight, Adventures of Aviore, Scott Yoak (P-51 Mustang Quicksilver), USAF F-25 Demo Team, USAF Heritage Flight