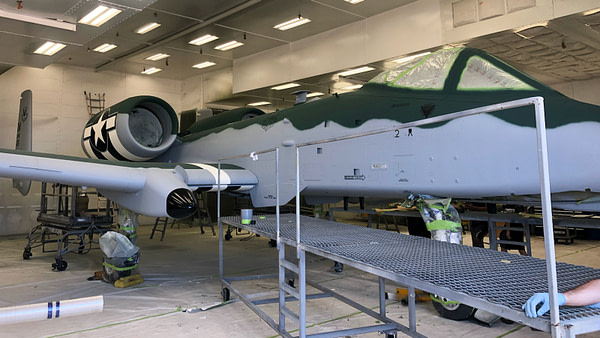 Earlier, we told you about the special paint scheme the A-10 Thunderbolt II Demonstration Team will be displaying next year. The design is inspired by a WWII P-51 Mustang. The only glimpse of the partially completed A-10 came through a short teaser video shared around social media and showed a large green patch on the top of the fuselage.
Now we've got a couple exclusive photos showing more details of the scheme, including invasion stripes! These were sent to us by Scott Frink, but he gives all credit for the design to Carlo Lawrence and the paint shop. No doubt about it, they did a great job!
The paint scheme appears very similar to several Mustangs, but the first that comes to our mind is "Geraldine", shown here at EAA AirVenture in Oshkosh.
What do you think of the new scheme? What Mustang does it remind you of? Be sure to weigh in on our forums and look for more details on the paint as they become available!