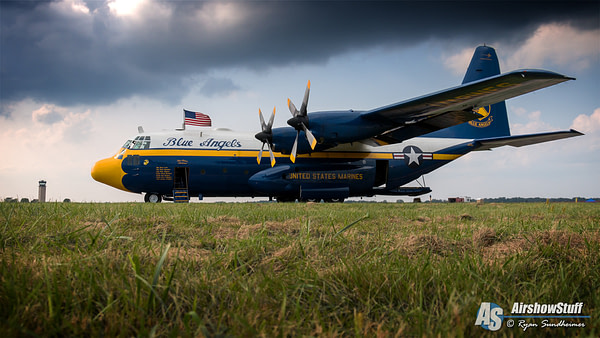 The current "Fat Albert" has flown her last show.
Of course, "Fat Albert" is the name given to the C-130 Hercules transport assigned to the famous US Navy Blue Angels flight demonstration squadron. Their current C-130T aircraft (BuNo 164763) has had numerous issues in recent years and saw extended periods of down time for maintenance along with a fleet-wide safety stand down.
Although the airframe returned to the team, they have not regularly performed the traditional airshow demonstration with it. The common assumption is that they were trying to extend the lifetime of the aircraft in the face of an uncertain or extended replacement schedule.
Unfortunately, it seems that 164763 finally hit the end of the road, and was flown for the final time from Pensacola, the team's home base, to Fort Worth for use as a ground trainer. This means that the team will almost certainly revert to borrowing a regular gray-painted C-130 for the near future. When this happens, the fill-in aircraft is referred to as "Ernie", and because of structural differences it is not used for airshow demonstrations.
The team will now have even more of a reason to look forward to the previously discussed acquisition of an ex-Royal Air Force C-130J to serve as the new permanent Fat Albert. Once the new aircraft arrives, the Marine Corps crew should again be able to show off what the old (new) girl can do!
Add your photos, videos, and memories of Bert in our forums, and be sure to check out our airshow calendar to find airshows and aviation events near you, including where the Blue Angels will be performing this year!
Update: The Blue Angels have posted their own tribute to Bert, pointing out how long the aircraft has served with the team.
It's a bittersweet day for us as we say our final farewell to our venerable C-130T, Fat Albert.

Fat Albert has served the Blue Angels honorably the past 17 years, flown more than 30,000 hours in support of our mission, and represented the United States Marine Corps to millions of fans.

This current airframe, BUNO 164763, has been with the team since 2002, and was the last C-130 to conduct a jet-assisted take-off (JATO).

While this may come as a shock to many of our fans, we have known this day was coming. The team will be transported via Fleet-provided logistics, until a permanent replacement aircraft is identified. Fat Albert will enjoy her retirement as a ground-based training aid in Fort Worth, Texas.