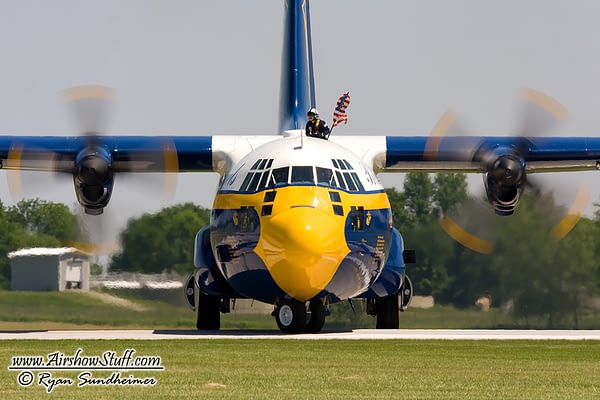 The US Navy has taken the next step toward getting "Fat Albert Airlines" flying again. The Naval Air Systems Command awarded a $29.7 million contract to the United Kingdom Ministry of Defence this month for a C-130J Hercules aircraft. The C-130 will head to the Blue Angels to serve as their transport.
The team retired their previous C-130, BuNo 164763, in May after a lengthy process of maintenance work and safety stand downs that kept the aircraft largely out of commission for the past few years. The aircraft held the role of "Fat Albert" for 17 years, accumulating over 30,000 flight hours in support of the team and performing at airshows. She now serves as a ground trainer in Fort Worth, Texas.
This purchase of a surplus C-130 from the Royal Air Force has been in the works for some time, and it is great news for fans of the team that it is proceeding. The J model of the C-130 features more powerful engines and other improvements over the older C-130T model.
Unfortunately, delivery of the aircraft is not expected until spring of 2020, so the team will continue borrowing fleet aircraft for transportation for some time. The public details of the contract do not mention if the aircraft will require extra time for modifications after delivery, but those will hopefully be covered before she arrives.