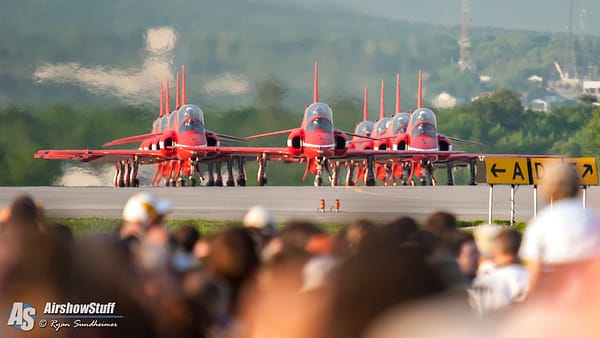 The Royal Air Force Red Arrows are headed to North America! The team will be here through an 11 week deployment in both Canada and the United States.
With more than 20 displays and 98 separate ground engagements, the tour will be the first chance North American airshow fans have to see the team since their short visit in 2008.
The team departed RAF base Scampton on Monday, August 5th with 12 Hawk jets (9 for display, 3 for backup). Their trip to North America will take three days with stops in RAF Lossiemouth, Iceland, and Greenland before arriving in Goose Bay, Canada on the way to their first appearance in Halifax, Nova Scotia.
An Atlas A400M airlifter will accompany the team on their trip, providing another unique opportunity to see an aircraft that is not typically seen in the US.
The RAF says that "the 11 week deployment is an indication of the UK's continuing commitment to enduring relationships, mutual prosperity and extensive security cooperation."
Below are the sites where the Red Arrows will be appearing. Unfortunately, the team has been unclear about the details of each appearance, and the stops listed can be any combination of full airshow displays, flyovers, fuel stops, and/or ground engagements. We have noted the flying appearances where we have that info, but you will want to look for additional details before making plans!
RAF Red Arrows 2019 North American Tour Schedule
August 7-13th: Halifax, Nova Scotia (flyover on 8th)
August 13th: Ottawa, ON (flyover)
August 13th: Gatineau, QC (Gatineau-Ottawa Airshow)
August 14-18th: Chicago, IL (Chicago Air and Water Show on the 17-18th)
August 19th: Boston, MA
August 21st: Atlantic City, NJ (Thunder over the Boardwalk Airshow)
August 22nd: New York, NY
August 24th: The Hamptons, NY
August 24-25th: Stewart ANGB, NY (New York Airshow)
August 25-28th: Washington, DC
August 28th: Niagara Falls, NY
August 28th – Sept 5th: Toronto (Canadian Intl. Airshow on 31st-2nd)
Sept 5th: Dayton, OH
Sept 6-9th: St. Louis, MO (Spirit of St Louis Airshow on 7-8th)
Sept 9th: Houston, TX
Sept 9-16th: Fort Worth/Dallas, TX
Sept 17-18th: Denver, CO
Sept 18-23rd: Portland, OR (Oregon International Airshow on 20-22nd)
Sept 23-24th: Seattle, WA
Sept 24-27th: Vancouver, BC (flyover on 26th)
Sept 26th: Victoria, BC (flyover)
Sept 27-29th: San Diego, CA (MCAS Miramar Airshow)
October 1-2nd: San Francisco, CA
October 2nd: Long Beach, CA
Oct 4-6th: Los Angeles, CA (The Great Pacific Airshow)
Oct 8th: Rapid City, SD
Follow along with the team's tour by using the #redarrowstour on social media.
Are you looking forward to seeing the Reds in the US or Canada? Make sure to follow our forum thread on their tour and add your own thoughts and photos to the discussion!
Also make sure to check out our airshow calendar to find airshows and aviation events near you!