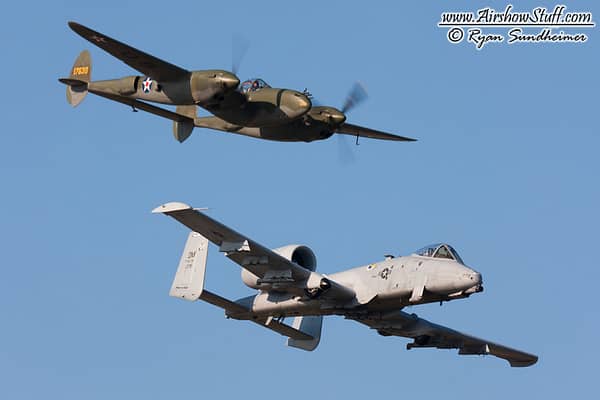 The US Air Force Heritage Flight routine will have a new look in 2019!
Air Combat Command's single-ship demonstration teams (F-22 Raptor, F-35 Lightning II, F-16 Fighting Falcon, and A-10 Thunderbolt II) and civilian Heritage Flight pilots just wrapped up their annual Heritage Flight Conference practice session at Davis-Monthan AFB. During the conference, they flew dozens of Heritage Flight routines in all sorts of combinations of modern jets and vintage warbirds. As if a new aircraft type being added to the program wasn't exciting enough, an extended routine was teased on social media, and we can confirm that the flights included more formation flybys than in previous years.
The old routine consisted of three formation passes; the formation would arc in for a right to left photo pass, turn around for a left to right flat pass, then come from behind and over the crowd before splitting apart for individual flybys, affectionately known as "zoomies". You can see it in the video below.
The new routine has two extra passes; it starts with the same photo pass, but the formation now swings out a little wider and arcs away from the crowd, presenting a belly view of the aircraft. They continue the turn to their left and fly head on to the crowd, passing overhead and then turning around for an original left to right flat pass, with the normal overhead pass, break, and zoomies.
The video below shows the new routine, but from an unusual perspective – across from the crowd and at far show left. Note the exceptional combination of aircraft; a Lockheed P-38 Lightning, Republic P-47 Thunderbolt, North American F-86 Sabre, and a US Air Force F-22 Raptor. Stay tuned for many more videos of the Heritage Flights flown at the conference, and further coverage during the 2019 airshow season!