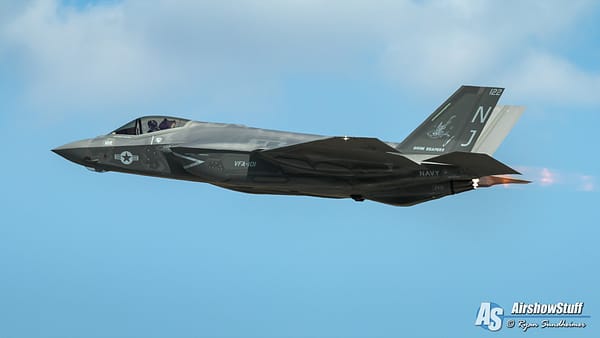 Quick on the heels of yesterday's disappointing announcement that the Navy's Super Hornet Demonstration Team is cancelling all remaining performances this year (Update – the demos may still be happening!) comes some much happier news! The International Council of Air Shows (ICAS) posted that the Navy has tentatively received approval for aerobatic F-35C Lightning II performances at 8-10 airshows in 2020.
The start of an F-35C demonstration team has been held in rumor for several years, so this is not a total shock. The US Air Force and US Marine Corps already fly aerobatic demonstrations with their F-35A and F-35B jets, and they introduced more intense aerobatic routines this year.
F-35C appearances are relatively rare, but one will be making a brief appearance at this year's EAA AirVenture airshow in Oshkosh, WI. There is a good chance the aircraft will be added to the newly expanded US Navy Legacy Flight program at the same time as demos are introduced.
The Navy declared the F-35C at Initial Operational Capability (IOC) status in February of this year, a major milestone in rolling the jet out to the fleet. F-35C operations are currently focused on NAS Lemoore in California, where VFA-125 "Rough Raiders" and VFA-147 "Argonauts" are based. It is likely that VFA-125 will support the demonstrations, as it is a training squadron that used to perform F/A-18C Hornet demonstration duties.
The entire F-35 program continues to be massively controversial in the face of huge budgets and reports of unacceptable performance. The desire to get positive press for the fifth-generation aircraft, which will form the backbone of the entire US military aircraft inventory, is certainly a factor in rolling out these new demonstrations to the public.
More information is expected at the ICAS Convention in early December. Stay tuned!