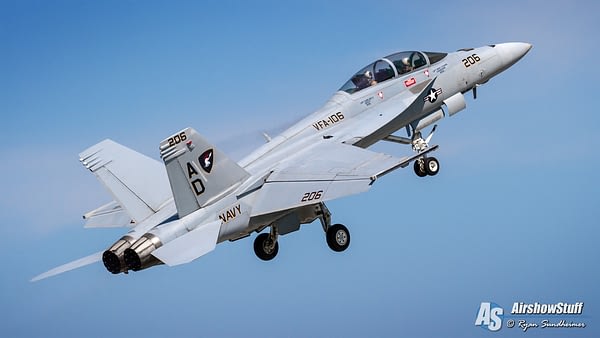 Here is the 2020 airshow schedule for the US Navy F/A-18 Super Hornet Demonstration Team! Will you see them in 2020? Let us know! Post in the AirshowStuff Forums or on the AirshowStuff Facebook page and make sure you share pictures after the show!
Schedules often change during the year – make sure to check out our airshow calendar for an updated list of airshows and aviation events, plus this and other major schedules all listed in one place! You can also check our forums for discussion on the schedule and shows!
Remember that this schedule is specifically for the full aerobatic demonstrations flown by VFA-106. There will be other dates announced for F-35C Lightning II demonstrations and US Navy Legacy Flights. You can read more details about the different performances on our forums.
2020 US Navy F/A-18 Super Hornet Demonstration Team Appearance Schedule
April 18: Thunder Over Louisville – Louisville, Kentucky (Show postponed to Aug 15, performance canceled)
May 23-24: Miami Beach Air & Sea Show – Miami Beach, Florida
June 6-7: Wildwood Air Show – Wildwood, New Jersey (Show canceled)
June 13-14: Ocean City Air Show – Ocean City, Maryland
July 3-4: Thunder Over North Beach – Racine, Wisconsin (Show canceled)
July 23-26: EAA AirVenture – Oshkosh, Wisconsin
August 15-16: Chicago Air and Water Show – Chicago, Illinois
August 29-30: New York Airshow – New Windsor, New York
September 19-20: NAS Oceana Airshow – Virginia Beach, Virginia
October 10-11: Wings Over Houston – Houston, Texas
November 14-15: Joint Base San Antonio Kelly Field Air & Space Show – Lackland, Texas