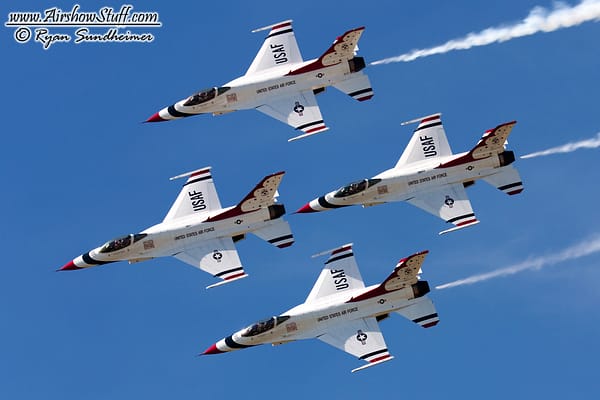 The US Air Force Thunderbirds and US Navy Blue Angels are getting ready for more awesome flyovers – this time for the 4th of July.
The Thunderbirds will headline the Independence Day flyover parade over the National Mall in Washington, DC. Other aircraft expected to join them include F-22 Raptors and F-35 Lightning IIs, a B-2 Spirit stealth bomber, V-22 Ospreys, CH-47 Chinooks and AH-64 Apaches, plus aircraft from the US Coast Guard and at least one Presidential Airlift aircraft, either a VC-25 (Air Force One) or a VH-3D (Marine One). Privately owned warbirds are also expected to be a part of the flyovers.
The Blue Angels, who flew over the DC festivities last year, will be performing their own flyover of Mount Rushmore in South Dakota as part of Independence Day celebrations there on Friday night. Other military aircraft, such as a B-1 Lancer from nearby Ellsworth AFB, may participate as well. There are rumors that they may join the Thunderbirds in DC Saturday, but nothing confirmed yet.
Other cities will also see military flyovers, particularly East Coast cities that played a part in the revolution. Aircraft will reportedly fly over Boston, New York City, Philadelphia, and Baltimore on their way to Washington DC. Military units around the country have long supported Independence Day parades and celebrations in their area with flyovers of their own, although many events have been scaled back or canceled this year.
Both jet teams were most recently in the public eye during their Operation America Strong flyover campaign across the country. Their appearances over major cities – including a joint appearance over Washington, DC – were a tribute to essential workers during the height of COVID-19/coronavirus pandemic restrictions.
Each team has been unable to perform at airshows due to the restrictions, which have forced dozens of airshows to cancel. There is a slight bit of hope that performances may resume yet this year – the Thunderbirds are visiting Langley AFB this week to be re-certified to perform and the Blue Angels have a limited performance planned for the Pensacola Beach Airshow July 8-11 – but with infection rates rising sharply even the end of the season is very much in doubt.