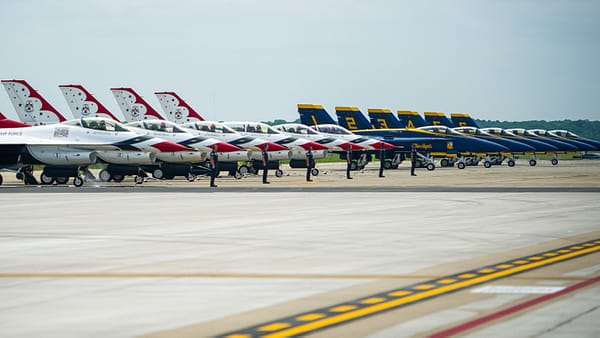 The US Air Force Thunderbirds are making a surprise visit to their US Navy Blue Angel counterparts this week. The Thunderbirds are temporarily relocating from their home base at Nellis AFB to NAF El Centro, where the Blue Angels are currently stationed. Both teams are nearing the end of their winter training periods prior to their first public demonstrations of the 2020 airshow season, scheduled for March 14th.
The meetup is a surprise to fans, but the teams do like to visit each other from time to time to swap best practices. The Thunderbirds visited the Blues at their normal home base at NAS Pensacola in 2017. Both teams performed at the Andrews AFB airshow in 2019, and later that summer they joined the Canadian Snowbirds for an unprecedented photo flight.
Whatever the reason, the many spotters in Southern California now have a rare chance to see both US jet teams in one spot! According to one source, the training is only expected to last until this weekend. We expect some great photos to result and hope you'll share any of your own on our forums! We'll also post the practice flight times there if we can get our hands on them.
Check out our airshow calendar to see a full list of US and Canadian airshows, including where the Thunderbirds, Blue Angels, and Snowbirds will be performing!