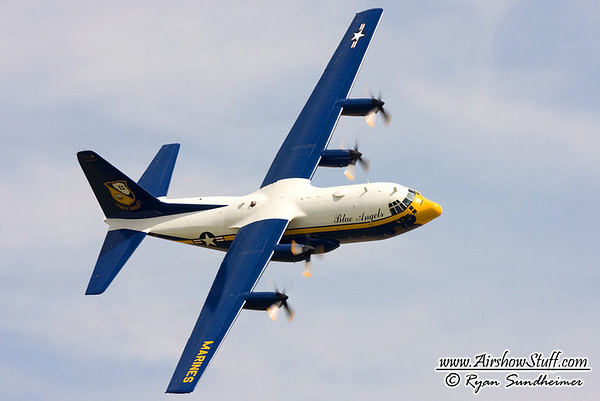 The US Navy Blue Angels just posted an image to their social media which teases the return of the team's C-130 Hercules known as Fat Albert, or Bert. The image shows video clips of the new airframe being edited with the caption "Something big is coming…" and close examination of the video thumbnails reveals some decent changes from the previous Bert paint scheme.
This is a welcome status update on the new Fat Albert. The new aircraft was purchased from the Royal Air Force after the previous Fat Albert, a C-130T, was retired following several years of maintenance work and safety stand downs. The new C-130J is a more modern version with more powerful engines. The Blues use the aircraft to transport their personnel and equipment to show sites. While they've been without a C-130 to use, they have had to borrow other Navy assets to arrange the transport.
No one is sure when the aircraft will begin flying with the team, or when it will begin performing at airshows. One previous theory was that team would unveil the new Fat Albert alongside their new F/A-18 Super Hornets at the beginning of the 2021 season, but that has always felt unlikely.
The Chippewa Valley Airshow in Eau Claire, scheduled for June, did post that Fat Albert was expected to be present at the show, but that post was soon deleted. A comment from the Blue Angels says that Bert will not join the team until later this spring.
Check out where you can see the Blue Angels perform in 2020 on our airshow calendar!