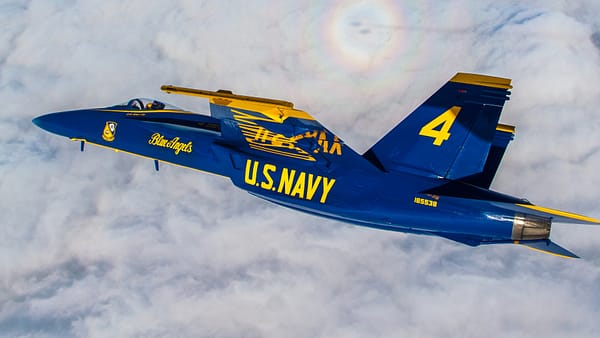 The US Navy Blue Angels are expected to publicly debut their new F-18 Super Hornets tomorrow (December 12th) with a formation flyover of the annual Army-Navy football game.
Concerns about the COVID-19 pandemic have forced the game to be played at West Point instead of its traditional home in Philadelphia. The game will be televised on CBS, with kickoff scheduled for 3pm Eastern.
This is the first time in 77 years that West Point will host the matchup. No fans will be allowed at the game, but the Corps of Cadets and Brigade of Midshipman will be attendance.
The Blue Angels are transitioning to the Boeing F-18 Super Hornet this offseason. The new jets will make their first full airshow appearance in March of next year at the team's winter training home of NAF El Centro in California, followed by the NAS Jacksonville Airshow in Florida – assuming the shows aren't canceled. Team representatives released an updated list of 2021 and 2022 airshow dates earlier this week.
The team sent their previous Legacy Hornets off with a special sunset flyby in November. Most of the retiring jets were flown directly from NAS Pensacola to museums for display.
Sadly, the team was not able to perform at any airshows with the Legacy Hornets during their final season thanks to COVID-related cancellations. The Blues did take part in Operation America Strong flyovers around the country, as well as Independence Day celebrations over Mount Rushmore and Washington DC.