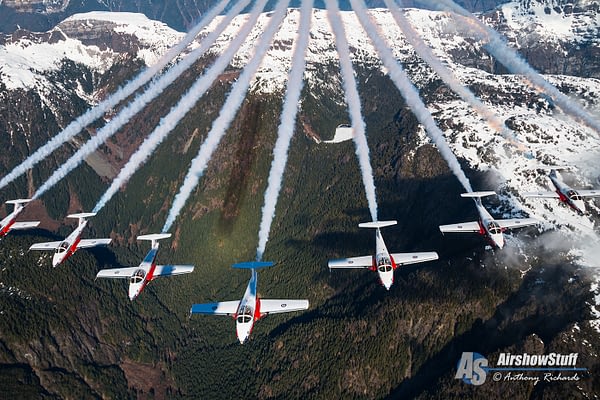 The Canadian Forces Snowbirds are launching Operation Inspiration, a series of flyovers across Canada to salute all Canadians working to control the COVID-19/coronavirus pandemic.
Dates, times, and locations for the flyovers have not yet been announced, but we will share them in this post as they made public. The team does say that flyover routes will emphasize hospitals and residential areas, and that they will be starting in Nova Scotia as soon as this weekend before working their way west. Each flyover will feature the iconic red and white CT-114 Tutor jets in a nine-ship formation with white smoke behind them.
The Snowbirds have been grounded from flying in recent weeks as part of a nationwide effort to curtail nonessential operations and slow down the spread of the virus. They will spend the rest of this week regaining currency in their aircraft before embarking on the trip.
This project follows a similar effort in the United States, where the US Air Force Thunderbirds and US Navy Blue Angels kicked off Operation America Strong just yesterday with special joint flyovers of New York City and Philadelphia. They will be continuing across the country in the coming weeks, and other military units will be conducting flybys of their own as well. You can see an updated schedule of planned US military flyovers here on our blog and in our forums.
Check out the Operation Inspiration discussion thread in our forums for the latest info on flyover routes and times!