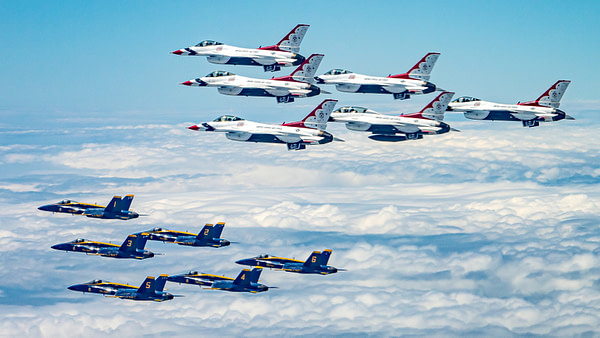 Yesterday, the US Air Force Thunderbirds and US Navy Blue Angels conducted a special joint flyover of New York City, Philadelphia, and nearby communities. The mission, part of Operation America Strong, saw both teams launch from the Blue Angels' home base at NAS Pensacola, fly up to NYC, then return home again at the end of the day. Along the way, the jets were supported by four KC-10 Extenders from JB McGuire-Dix-Lakehurst in New Jersey, an incredible sight of its own. The tankers were easily tracked as they lead the teams north and then orbited over New York while refueling.
The flyover was covered by live streams from numerous major news networks as well as countless videos and photos posted to social media. We've been sharing many fan videos on our Facebook and Instagram pages. Of course the people with the best view were in the jets themselves, and many of the aerial photos and video clips have been made available to us. Check out these amazing shots and scroll below for a compilation video taking you in the cockpit for some of the flight!
Observant viewers noticed a few peculiar things during the coverage. Over New York, Blue Angel #1's refueling probe was extended for the entire flyby sequence. Also, both #2 aircraft were swapped out between New York City and Philadelphia; they went from single-seat to two-seat models. Finally, both teams used only their normal white smoke instead of the blue and red colored smoke the Thunderbirds were seen testing in Pensacola before the the flyby.
The teams will continue a program of flybys across the country in the coming weeks, and other military units are conducting flyovers of their own. You can see the latest confirmed flyover dates and routes here on our blog and in our forums.
Our Canadian friends have their own set of flyovers to look forward to. The Canadian Forces Snowbirds announced today that they will be performing similar missions across Canada as part of what they are calling Operation Inspiration.