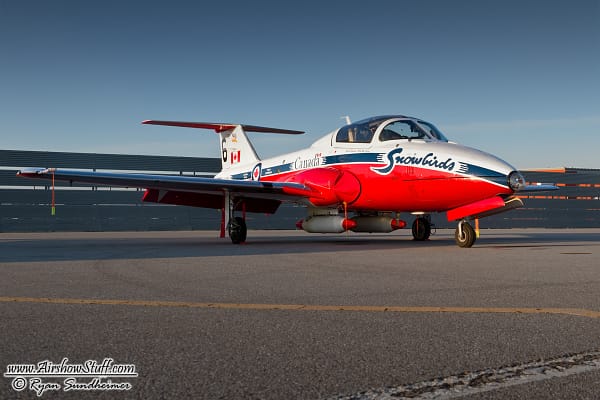 Less than 24 hours after the Canadian Snowbirds' plans for Operation Inspiration flyovers in British Columbia came to a tragic halt, general aviation pilots in Canada are stepping up to carry the mission home and honor the team.
Operation Inspiration was the name for a series of flyovers conducted by the team across Canada, starting at the East Coast and working westward. Similar to Operation America Strong in the US, the intent was to honor health care and essential workers across Canada, and to raise the spirits of Canadians in the face of the COVID-19/coronavirus pandemic. The team had nearly reached the West Coast conclusion of the tour when the tragic accident occurred.
The two "advanced team" jets were taking off from Kamloops, BC to head to the team's next destination when one experienced trouble and crashed. The team's Public Affairs Officer Capt. Jenn Casey was killed, and the #11 pilot Capt. Richard MacDougall was seriously injured in the incident.
The team will certainly be grounded for the immediate future as they mourn their loss and try to recover from yesterday's crash. It is also customary to observe a safety stand down while the cause of the accident is investigated.
Knowing this, a group of general aviation pilots has decided to fill in for the team – and honor the memory of Capt. Casey – as best they can.
"Operation Backup Inspiration" has been organized in a single day. Thirty five pilots and aircraft – more volunteered but it was limited for safety – will depart from Abbotsford, BC this evening and parade over to Vancouver, the final major destination in the original plan.
"We are paying tribute to the Snowbirds. In doing so we must act with the same level of professionalism and care that they do every day." reads the post organizing the flight. The flight's radio callsign will be "Inspiration One". It won't look the same to those on the ground – there will be no formation and no smoke highlighting the flyovers – but as a gesture it is hard to get more powerful.