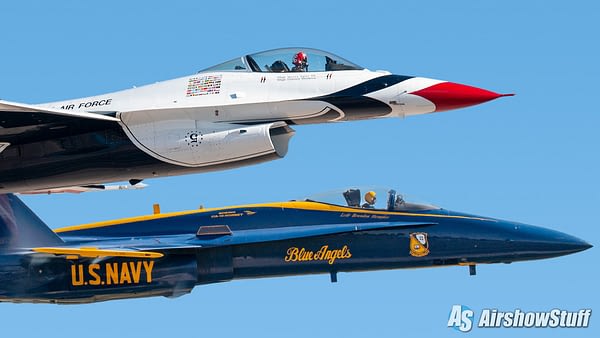 Military units around the country have begun posting times and routes for health care and essential worker tribute flyovers. It's a lot of information to process, so we're putting together this list as a one stop shop to see what has been announced. We'll keep it updated as we learn more.
The main events are flyovers by the US Air Force Thunderbirds and US Navy Blue Angels as part of what they're calling Operation America Strong. They will be hitting most of the largest cities in the country, either as a special joint formation or separately. The Thunderbirds have already flown over Las Vegas and Colorado, and the teams will make their first joint appearance tomorrow (April 28th) in the skies over New York City, Newark, Trenton, and Philadelphia. Other units are covering smaller cities and more local areas.
This entire program of flyovers is designed as a boost of morale and a salute to those working to contain the COVID-19/coronavirus pandemic. It's also a great method of public outreach for the military after dozens of airshows have been canceled or postponed. The flight hours do not incur any additional cost to the taxpayers; they come from normal training mission allotments needed to maintain pilot proficiency.
Civilians are also showing their appreciation with flyovers in privately-owned aircraft, including airshow teams like the Aeroshell Aerobatic Team. While these are not really part of "Operation America Strong", we've begun adding them to the list below to help raise awareness.
You can find more details, including photos and videos of the flyovers, on our forums. We hope you'll contribute there as well to keep all of us updated! Remember to not travel too far from home and to always keep a safe distance when viewing the flyovers.
The flyovers are expected to continue until mid-May, with more being announced just about every day. Specific routes and times are not being posted until generally the day before, so keep checking back for the latest info!
Operation America Strong Military Flyover Schedule
Friday, April 24th, 2020
Shreveport, Bossier City – B-52 Stratofortress from Barksdale AFB
Monday, April 27th, 2020
South Carolina – F-16s from the South Carolina ANG
Tuesday, April 28th, 2020
New York City, Newark, Trenton, Philadelphia – US Navy Blue Angels and USAF Thunderbirds
Gulfport, Biloxi, Ocean Shores – C-130 Hercules from Keesler AFB
Reno, Lake Tahoe – C-130 Hercules from Reno, NV
Kansas City – B-2 Spirit, T-38 Talons, and A-10 Thunderbolt IIs from Whiteman AFB
Fort Wayne – A-10 Thunderbolt IIs from Fort Wayne, IN
Thursday, April 30th, 2020
Utah – F-35 Lightning IIs from Hill AFB
Oklahoma – F-16s from Tulsa, OK
Friday, May 1st, 2020
Oklahoma City – C-17 Globemaster IIIs, KC-135 Stratotankers, KC-46 Pegasus, T-38 Talons, T-1 Jayhawks, and T-6 Texan IIs from Altus AFB and Vance AFB
Phoenix – F-35 Lightning IIs, F-16 Fighting Falcons, KC-135 Stratotanker from Luke AFB and Phoenix
New Orleans, Baton Rouge – B-52s from Barksdale AFB
Kentucky – C-130 Hercules from Kentucky ANG
North Carolina – F-15E Strike Eagles from Seymour Johnson AFB
Texas, Oklahoma – T-6 Texan IIs and T-38 Talons from Sheppard AFB
South Dakota – B-1B Lancer from Ellsworth AFB
Saturday, May 2nd, 2020
Baltimore, Washington DC, Atlanta – US Navy Blue Angels and USAF Thunderbirds
Indiana – A-10 Thunderbolt IIs from Fort Wayne, IN
Monday, May 4th, 2020
Ohio and Pennsylvania – C-130 Hercules form Youngstown ARB
Tuesday, May 5th, 2020
Georgia – F-15 Eagle from Robins AFB
Alabama – KC-135 Stratotanker from Birmingham
Alabama – F-16 Fighting Falcons from Montgomery
Indiana – A-10 Thunderbolt IIs from Fort Wayne
Wednesday, May 6th, 2020
Dallas, Fort Worth, New Orleans, Houston – US Navy Blue Angels
Boston/Massachusetts – F-15 Eagles from Massachusetts ANG
Kansas – KC-135 Stratotankers and KC-46 Pegasus from McConnell AFB, B-29 Superfortress "Doc"
Minnesota – F-16 Fighting Falcons and C-130 Hercules
Arkansas – C-130 Hercules from the Missouri ANG
Montana – C-130 Hercules from the Montana ANG
Delaware – C-17 Globemaster IIIs from Dover AFB
Ohio – F-16 Fighting Falcons from Toledo
Colorado – F-16 Fighting Falcons from the Colorado ANG
Colorado – C-130 Hercules
Thursday, May 7th, 2020
Ohio – F-16 Fighting Falcons from Toledo
Ohio and Pennsylvania – C-130 Hercules form Youngstown ARB
North Carolina – C-17 Globemaster IIIs from the North Carolina ANG
North Carolina – Aircraft from MCAS Cherry Point
Arizona – KC-135 Stratotanker from Arizona ANG
Alabama – KC-135 Stratotanker from Birmingham
Friday, May 8th, 2020
Miami, Jacksonville – US Navy Blue Angels
Washington – C-17 Globemaster IIIs from McChord AFB
Arkansas – C-130 Hercules from Little Rock AFB
Missouri – B-2 Spirit from Whiteman AFB
Oregon – F-15 Eagles from Portland
Maryland – A-10 Thunderbolt IIs
Washington – KC-135 Stratotanker from Fairchild AFB
Saturday, May 9th, 2020
California – T-38 Talons from Beale AFB
Tuesday, May 12th, 2020
Detroit, Chicago, Indianapolis – US Navy Blue Angels
New York – KC-135 Stratotankers and F-35 Lightning IIs
Virginia – F-22 Raptor with two P-51 Mustangs (Heritage Flight)
New Jersey – F-16 Fighting Falcons from Atlantic City
Wisconsin – F-16 Fighting Falcons from the Wisconsin ANG
Michigan – A-10 Thunderbolt IIs and KC-135 Stratotanker from Selfridge ANGB
Alabama – C-130 Hercules from the 908 Airlift Wing
Ohio – F-16 Fighting Falcons from Toledo
Tennessee – KC-135 Stratotanker from the 134th Air Refueling Wing
New York – LC-130 from the 109th Airlift Wing
Alaska – C-130 Hercules from Joint Base Elmendorf-Richardson
Wednesday, May 13th, 2020
Austin, San Antonio – US Air Force Thunderbirds
Michigan – A-10 Thunderbolt IIs and KC-135 Stratotanker from Selfridge ANGB
West Virginia – C-17s from the West Virginia National Guard
Indiana – A-10 Thunderbolt IIs from Fort Wayne
South Carolina – F-16 Fighting Falcons from Shaw AFB
California – F-15 Eagles from Fresno
Minnesota – F-16 Fighting Falcons from Duluth
New Jersey – KC-10 Extenders from the 514th Air Mobility Wing
Ohio – KC-135 and F-16 Fighting Falcons
Florida – F-15 Eagles from the 125th Fighter Wing
Alaska – C-130 Hercules from Joint Base Elmendorf-Richardson
Nebraska – KC-135 Stratotanker from the Nebraska Air National Guard
Thursday, May 14th, 2020
Nashville, Little Rock – US Navy Blue Angels
California – KC-135 Stratotanker and C-17 Globemaster III from March ARB
Georgia – C-130 Hercules from Dobbins ARB
Hawaii – C-17, KC-135, and F-22 Raptors from Hickam AFB
Arizona – A-10 Thunderbolt IIs and F-16 Fighting Falcons
Connecticut – C-130 Hercules
Ohio – F-16 Fighting Falcons from Toledo
California – B-52 Stratofortress from Edwards AFB
Friday, May 15th, 2020
Los Angeles, San Diego – US Air Force Thunderbirds
New Mexico – F-16 Fighting Falcons from Holloman AFB
Michigan – MH-60T helicopters from USCG Station Traverse City
Alaska – F-22 Raptors from Joint Base Elmendorf-Richardson
Alaska – C-17 Globemaster IIIs from Joint Base Elmendorf-Richardson
New York – HC-130 Hercules and HH-60 Pave Hawks
California – T-38 Talons from Beale AFB
Colorado – F-16 Fighting Falcons
Florida – KC-135 Stratotankers from MacDill AFB
Idaho – F-15E Strike Eagles and A-10 Thunderbolt IIs from Mountain Home AFB
Alaska – F-35 Lightning IIs and F-16 Fighting Falcons from Eielson AFB
Texas – B-1B Lancers and C-130 Hercules from Dyess AFB
Oregon – F-15 Eagles
Ohio – C-130 Hercules from Mansfield
Florida – F-22 Raptor, F-35 Lightning II, T-38 Talons from Tyndall AFB
Saturday, May 16th, 2020
South Dakota – F-16 Fighting Falcons from the 114th Fighter Wing
New York – C-47 from the National Warplane Museum
Monday, May 18th, 2020
North Dakota – B-52 Stratofortress from Minot AFB
Nebraska – KC-135 Stratotanker
Tuesday, May 19th, 2020
Pennsylvania – KC-135 Stratotanker and C-130 Hercules from the Pennsylvania Air National Guard
Friday, May 22nd, 2020
Oregon – F-15 Eagles
Saturday, May 23rd, 2020
Florida – F-16 Fighting Falcons from Homestead ARB, Coast Guard HC-144 and MH-65, Goodyear Blimp
Monday, May 25, 2020
Pennsylvania – C-17 Globemaster III
Missouri/Illinois – C-40 from Scott AFB
California – HH-130 Hercules and HH-60 helicopters