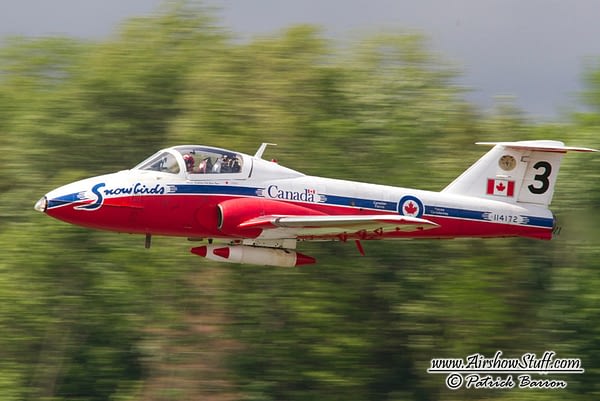 UPDATE: The Snowbirds have confirmed that one member of the team died in the crash. Another is in the hospital with serious but non-life-threatening injuries.
ORIGINAL POST: One of the Canadian Forces Snowbirds has crashed near Kamloops, British Columbia this afternoon.
At least one person aboard – there may have been two – was able to eject from the stricken aircraft at the last second. There is no confirmation of their status yet. Photos show a crew member being tended to on the roof of a house with the parachute draped nearby.
Video from the scene shows two jets taking off together before one of them begins a steep, climbing turn. The aircraft appears to enter a spin before both crew seats eject and the aircraft impacts the ground. It is possible that these two jets were the advanced team, Snowbirds 10 and 11, who typically operate ahead of the main formation of nine aircraft.
The team has been flying over communities across Canada during Operation Inspiration. The flyovers are to honor first responders and essential workers, and to lift the spirits of Canadians in the face of the COVID-19/coronavirus pandemic.
According to the teams schedule, they were originally planning to depart from Kamloops at 10:00am, flying over towns on their way to Kelowna. This plan was eventually canceled due to clouds in the mountain passes, and the team posted that they would instead transit to Comox for their next set of flyovers. Weather is unlikely to have had any impact on the incident.
Keep an eye on our forums for more information as it becomes available.
This is the second Snowbird crash within a year. Last October, Snowbird #5 crashed after experiencing engine trouble while the team was preparing to perform at the Atlanta Air Show. He ejected to safety after pointing the jet at an empty field and was recovered uninjured.
The Snowbirds are based in Moose Jaw, Saskatchewan and perform with nine CT-114 Tutor jets that previously served as a training aircraft with the Canadian Armed Forces.