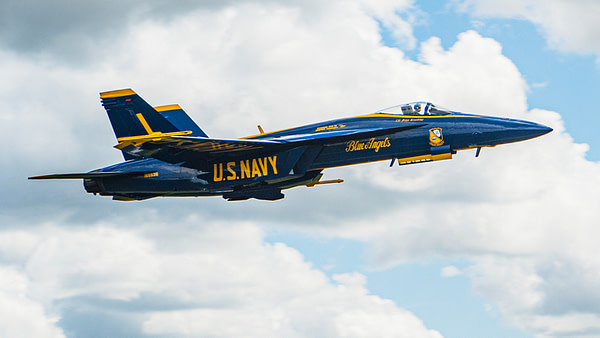 The US Navy Blue Angels welcomed their first F/A-18E Super Hornet to their home base at NAS Pensacola today!
Former Blue Angel "Boss" and current Director of the Blue Angels Super Hornet Transition Team, Capt. Eric Doyle, flew the aircraft from Cecil Field in Jacksonville to Pensacola. He was greeted on the ramp by members of the team, and the jet was positioned for a special photo with their current F/A-18 Hornets.
The Blue Angels will transition from the Hornets to Super Hornets during their upcoming winter training period. More jets are being modified for the team and will be delivered in the coming months.
The team is pulling out several historic call backs during the transition. This first Super Hornet, fittingly painted as the #1 aircraft, features the names of both the current Boss (Commander Brian Kesselring) as well as the original Boss (Captain Roy "Butch" Voris). The first performance in the new jets will take place not in their traditional opening location of El Centro, but at NAS Jacksonville, where the team originally started. There are also rumors that they are hoping to paint the #7 aircraft in a reverse color scheme similar to the team's "Beetle Bomb" aircraft used many years ago.
Unfortunately, the team may have already flown their last public performance in the Hornets. Just two performances on their original 2020 airshow schedule remain following dozens of cancellations across the country. The Blues recently announced that due to the lack of a season, all of the current pilots will remain with the team for 2021; usually several rotate out annually.
Meanwhile, the team's new "Fat Albert" C-130J Hercules is currently being test flown in the UK before officially joining the team herself.
Stay tuned for more coverage of the transition!