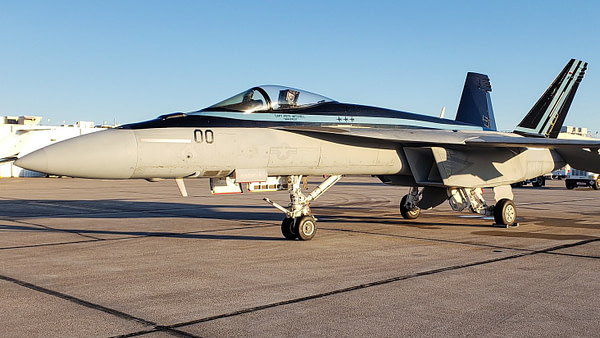 The F/A-18E Super Hornet used by Tom Cruise's character in the new Top Gun 2 movie will continue to thrill aviation fans long after the movie debuts. It is on its way to be converted for use by the US Navy Blue Angels demonstration team, which will begin training with the aircraft this fall. Duncan Aviation (by way of Sean Jensen) shared these photos when the jet stopped for gas in Nebraska.
The jet (BuNo 165667) wears a distinctive black and blue paint scheme with Pete "Maverick" Mitchell's name clearly displayed on the side for the camera. It only has one seat; shots of Cruise in the cockpit were filmed using a two seat F model but this one was used for exterior shots. Although the paint scheme will be swapped out for the distinctive blue and gold that the team uses, there is hope that some day it will be retired to a museum and returned to the movie colors.
This aircraft is reportedly the sixth Super Hornet to begin conversion for use by the Blue Angels. They are retiring their well-worn F/A-18A/B/C/D model Hornets after performing with them since 1987. These "Legacy Hornets" were retired from active Navy service last year and now serve only with the Blue Angels and the US Marine Corps. The Navy decided to allocate some of the oldest, non-combat capable Super Hornets to the team in order to preserve the newest jets for actual combat units.
The Super Hornet is larger and more powerful than the Legacy Hornet, and former Blue Angel pilots had to spend a great deal of time evaluating how the jet would fare in the extremely demanding low level aerobatics and tight formations flown by the team. Engineering teams had to develop modifications to the aircraft systems, such as a smoke generator, to prepare them for show use. The Top Gun jet and others assigned for team use are now having these modifications installed. The team will begin practicing with the new aircraft this fall, and perform in them for the first time in April of 2021.
"Top Gun: Maverick" will premiere in theaters on June 26th.
Take a look at our airshow calendar to see where you can catch a Blue Angels performance during both the 2020 Legacy Hornet farewell season and the 2021 inaugural Super Hornet season!