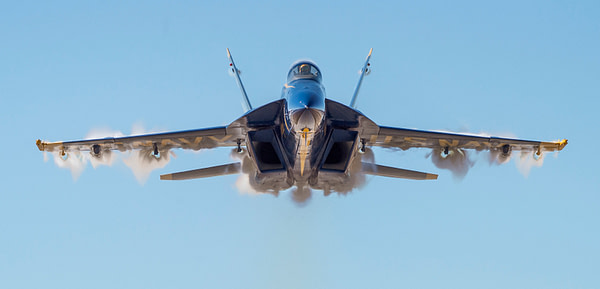 Here is the 2021 airshow schedule for the US Navy Blue Angels! Will you see them in 2021? Let us know! Post in the AirshowStuff Forums or on the AirshowStuff Facebook page and make sure you share pictures after the show!
The 2021 airshow season will mark the first season for the Blue Angels in their new F-18 Super Hornets. The season will start a bit later than usual to allow the team more winter training time.
Schedules often change during the year – make sure to check out our airshow calendar for an updated list of airshows and aviation events, plus this and other major schedules all listed in one place! You can also check our forums for discussion on the schedule and shows!
2021 US Navy Blue Angels Appearance Schedule
March 13: NAF El Centro Festival of Flight – NAF El Centro, CA
April 10-11: NAS Jacksonville Air Show – NAS Jacksonville, FL
April 17-18: SUN 'n FUN Aerospace Expo – Lakeland, FL
April 24-25: MCAS Beaufort Air Show – MCAS Beaufort, SC
May 1-2: Wings Over South Texas Air Show – NAS Corpus Christi, TX
May 8-9: Fort Lauderdale Air Show – Fort Lauderdale, FL
May 15-16: The Great Florida Air Show, Melbourne, FL
May 26-28: U.S. Naval Academy Graduation – USNA, Annapolis, MD
May 29-30: Westmoreland County Airshow – Latrobe, PA
June 5-6: Chennault International Air Show – Lake Charles, LA
June 12-13: La Crosse Air Show – La Crosse, WI
June 19-20: Thunder of Niagara Open House – Niagara Falls, NY
June 26-27: Duluth Air and Aviation Expo – Duluth, MN
July 3-4: KC AirShow – Kansas City, MO
July 10: Pensacola Beach Air Show – Pensacola Beach, FL
July 24-25: Fargo Airsho – Fargo, ND
July 31-August 1: Arctic Lightning Air Show – Eielson AFB, Fairbanks AK
August 7-8: Boeing Seafair Air Show – Seattle, WA
August 14-15: Owensboro Air Show – Owensboro, KY
August 21-22: Chicago Air & Water Show – Chicago, IL
August 28-29: Airshow London – London, Ontario, Canada
September 4-5: Cape Cod Air Show – JB Cape Cod, MA
September 18-19: NAS Oceana Air Show – NAS Oceana, VA
September 25-26: MCAS Miramar Air Show – MCAS Miramar, CA
October 2-3: The Great Pacific Airshow – Huntington Beach, CA
October 9-10: San Francisco Fleet Week – San Francisco, CA
October 16-17: Northern Colorado Airshow – Loveland, CO
October 23-24: Fort Worth Alliance Air Show – Fort Worth, TX
October 30-31: Wings Over North Georgia – Rome, GA
November 5-6: Blue Angels Homecoming Air Show – NAS Pensacola, FL