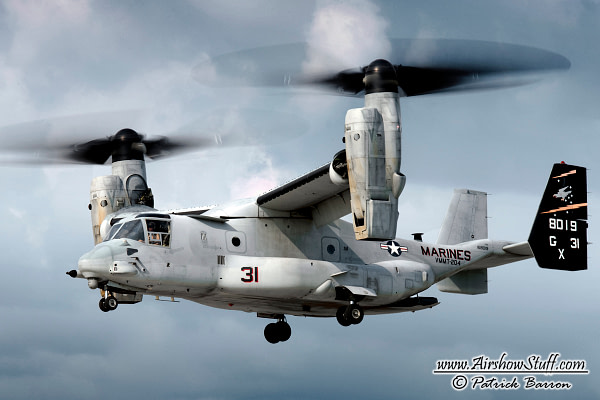 Here is the 2022 airshow schedule for the US Marine Corps MV-22 Osprey demonstrations! Will you see them in 2022? Let us know! Post in the AirshowStuff Forums or on the AirshowStuff Facebook page and make sure you share pictures after the show!
As is typical for the Marines, this initial list is quite short. A few other shows are usually added as the year progresses, and many Marine Corps Air Stations end up hosting demos as well even if they aren't listed here.
Schedules often change during the year – make sure to check out our airshow calendar for an updated list of airshows and aviation events, plus this and other major schedules all listed in one place! You can also check our forums for discussion on the schedule and shows!
2022 USMC MV-22 Osprey Demonstration Schedule (as of 12/7/21)
April 23-24: The Great Texas Airshow – JB San Antonio-Kelly Field, TX
July 3-4: Tacoma Freedom Fair Air Show – Tacoma, WA
July 25-31: EAA AirVenture Oshkosh, Oshkosh, WI
August 20-21: Chicago Air & Water Show – Chicago, IL