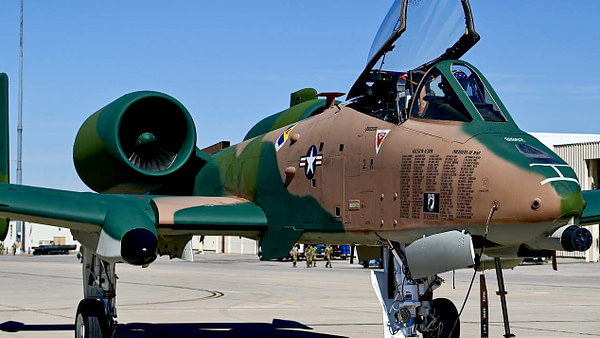 The US Air Force's A-10 Thunderbolt II Demonstration Team unveiled a brand new specially painted A-10 today. The aircraft features a stunning green and tan Southeast Asia camouflage scheme with a light gray belly, colorful roundel, and white unit markings on the tail.
The design is reminiscent of the F-105 Thunderchiefs that the 355th Tactical Fighter Wing (predecessor to the current 355th Fighter Wing) flew during the Vietnam War. The starboard side of the nose features the names of unit members killed in action and taken as prisoners of war.
Special paint schemes, once rare, have become a recent trend for the USAF teams.
This is the second specially-painted aircraft to be flown by the A-10 team. Their previous "heritage" jet was unveiled in late 2019. It carried a green over gray scheme with invasion stripes in honor of unit member Col. Henry Brown. Col. Brown was the highest scoring WWII fighter ace of the then 355th Fighter Group, flying P-51 Mustangs in Europe. Unfortunately, the WWII paint scheme will vanish as that aircraft is slated to be returned to standard gray.
The F-16 Viper Demo Team unveiled their own amazing paint scheme named "Venom" in May of 2020. At one point, team members expressed plans to rotate the team's three aircraft and paint a new scheme each year, although those plans may have changed.
The F-35 Lightning II and F-22 Raptor demo teams have no flexibility with their paint schemes as they require special coatings to maintain their stealth capabilities.
We're greatly looking forward to seeing the new scheme for ourselves! If you want to see it also, be sure to check our airshow calendar page for a list of planned performances. You can also join our forums for more information on the team.
Update: Check out this video of both specially painted A-10s flying together during the Heritage Flight Conference!