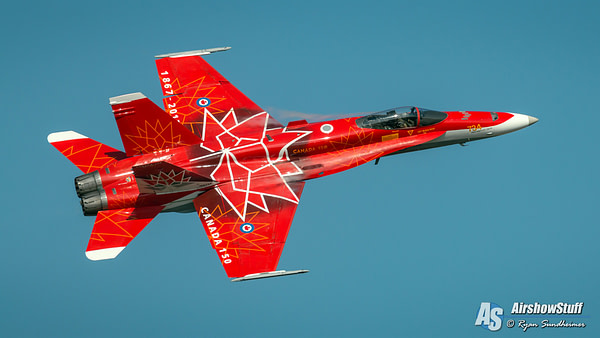 Here is the 2023 airshow schedule for the Royal Canadian Air Force CF-18 Hornet Demonstration Team! Will you see them in 2023? Let us know! Post in the AirshowStuff Forums or on the AirshowStuff Facebook page and make sure you share pictures after the show!
The CF-18 schedule is a little different this year, first being limited to just 10 shows overall and then being further split into "tactical support" demonstrations a traditional aerobatic demonstrations. "Modem" will return as the team's pilot, but there will be no special paint scheme this season. From the CF-18 Demo Team's post:
2023 CF-18 demonstrations will consist of a mix of two separate types of shows: a tactical fighter support demonstration highlighting the CF-18's ability to provide support to soldiers on combat operations and an aerobatic demonstration showcasing the CF-18's wide range of capabilities. Both demonstrations will be flown with aircraft in an operational grey paint scheme.
Schedules often change during the year – make sure to check out our airshow calendar for an updated list of airshows and aviation events, plus this and other major schedules all listed in one place! You can also check our forums for discussion on the schedule and shows!
2023 Canadian Forces CF-18 Hornet Demonstration Team Airshow Schedule 
(as of 12/14/2022)
June 7: North Bay, ON (Tactical support demonstration)
June 10-11: Barrie Airshow – Barrie, ON (Tactical support demonstration)
July 22: Boundary Bay Airshow – Delta, BC (Tactical support demonstration)
July 29-30: Red Deer Airshow – Red Deer, AB (Tactical support demonstration)
August 5-6: Alberta International Airshow – Edmonton, AB (Aerobatic demo)
August 11-13: Abbotsford International Airshow – Abbotsford, BC (Aerobatic demo)
August 26-27: Air Show Atlantic – Debert, NS (Aerobatic demo)
September 2-4: Canadian International Air Show – Toronto, ON (Aerobatic demo)
September 8-10: Festival Aérien VOLARIA Airshow – Mirabel, QC (Aerobatic demo)
September 16-17: Aero Gatineau-Ottawa – Gatineau, QC (Tactical support demonstration)